Dow Jones Industrial Average hits 13,000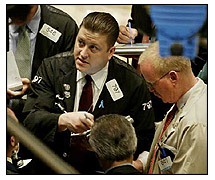 Headlines all over the place are touting yesterday's surge that put the DJIA over 13,000. And then, just a few lines into the articles, every one of them taken from the AP wire, they drop the line, "But appearances can be deceiving, and there may be more reason to worry than rejoice about Wall Street's latest accomplishment."
I disagree. While it is odd that it's taken less than 7 months to go from 12k to 13k (it took like 7 years to go from 11k to 12k), I don't think it's realistic to call this a repeat of the dot com era.
Last night, CNBC was essentially calling this bittersweet, dropping in references to the rising energy costs (I still think gas is very affordable), the slumping housing market (it's not slumping, people are just overpricing their homes), and the sub-prime mortgage issues in the news lately. On those, hey, if you fell for a 5-1 ARM mortgage, it's not like you didn't see the day coming when the rate would go up. You gambled and you lost. I like to think the number of people out there with this problem are greatly exaggerated in the media.
I'm also not one to get excited because the Dow hit a nice round number. Honestly, 13k is no more exciting than 12.5k for me. I love how they drop stats like it was the "35th record close since the start of October." Talk about meaningless filler!? Did you know I just reached a new record for breaths taken since birth? Yep, I just raised it again. One more. And again.
Don't get me wrong, any day that has a 1% gain is huge — my net worth for next month, should the pattern hold steady, will show that. The number 13k, though, is meaningless. Love it — a meaningless headline.
My real point though is that this is *nothing* like the dot com era. I made a lot of money before it came tumbling down, but I lost my shirt on stocks like Pets.com (what was I thinking?). The past 6 months or so of gains haven't come from the Amazons, Googles, or Yahoos. It's been the staples, Boeing, Pepsi, Corning, etc… That's a big difference. Those aren't volatile stocks.
And this talk of the economy tanking just doesn't hold any weight in my wallet. Things are cruising along just fine. And no, the price of gas hasn't changed the way I live my life. Not one bit.
Neither has this latest milestone.