Net Worth Update: August 2010 (+$10,838)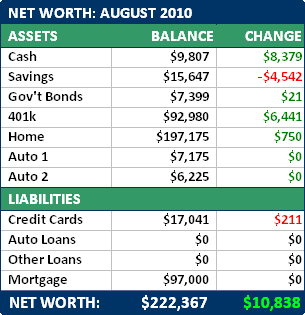 Back to muddling through my hazy financial funk…after a two week vacation (which is why this is so late).
With the renovation in progress and still not paid for — and not having to make a mortgage payment — I have too much money in some places and not enough in others and a constant fear of coming up short somewhere.
I've reassured myself time and time again that I've got the funds to cover everything but, well, let's just agree that it's very unsettling to go two months without paying the mortgage.
It just feels…risky. Like I've forgotten something.
That said, after a month where I dropped over $28k, I recovered pretty nicely with a $10k+ gain!
Whether up or down, five-figure months are always exciting!
Here's the breakdown:
Cash:
My cash reserve is a lot higher than it needs to be but that's just in case the contractor comes looking for another payment. I just like to be ready and not have to ask, "Can you wait a couple of days before you deposit that?"
I dunno, I guess I don't want to give off the appearance that the money isn't there thinking that he'll do a better job knowing that the check isn't going to bounce. Naive of me, yep, but that's just how I am…
Savings:
This is where my padded cash reserve is coming from. I'm still contributing pretty heavily, though, you know, just to keep the weekly transfer routine going.
Gov't Bonds:
Mmm…bonds…
401k:
Good month on the markets.
Home:
I wish putting $33k worth of work into it showed here but that's okay…
Auto 1 & Auto 2
Eh, whatever… Sadly, the BMW won't start for some reason but it still looks nice in the garage!
Credit Cards:
Ugh… Between the vacation expenses and the cash advance we took, well, this is tough to look at. Most of it is at 0% so there isn't any urgency and the rest, well, I'm considering carrying a balance for a month or maybe two.
Hate to do it but it's the wiser move. I'm not comfortable tapping myself out right now just to avoid some very small finance charges.
Auto Loans and Other Loans:
Zilch. Zero. Nada.
Mortgage
Feels like I'm going backwards and to a certain extent, that's exactly what's happened as closing costs pushed me $5600 deeper into the red.
It's okay though — this month the mortgage payments start back up and the number will start to drop again.