I was thinking that I should probably post my financial goal for 2007.  Sure, we're well into the calendar year now, but it's not to late to set a goal for the year.
It's been a long journey since I decided I'd had enough of debt. Sometimes I wish I'd logged it all better so as to pick up more momentum just from looking at the results.  It's all in there in my Microsoft Money file, and I can tell you, once you decide to change your ways, there really is a snowball effect.
To think, no long ago, I was shelling out over $400/month in finance charges to credit card companies. 
That's over $10/day… for nothing!?  Nothing?!   Never again.
So, my goal for 2007 is to raise my net worth, not including the mortgage or house, to $100k.  It's not a very ambitious goal, but we've got some expensive home improvement projects coming this summer and likely our first child on the horizon in 2008 as well.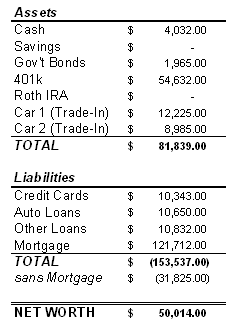 The digits for January 2007 are on the right. As of the numbers on April 15, I'm 31% of the way there having increased the net worth $15375.
By January 2008, I hope to have the credit cards hovering around the $300 level and 'other' loans (currently a home improvement loan at 15.5%?!  Ouch!) at $0. I'll keep paying the auto loans regularly as the interest rate is so low (less than I'm currently making in an ING Direct account), there really isn't any advantage in paying them early.  If all goes as planned, the additional home improvement will be paid out of pocket for the most part and contributions to savings and the 401k should increase as the debt disappears.
Something I thought I should mention — I'm afraid some readers might look at these numbers and finance posts as "bragging".  Far from it.  I know we're doing alright, better than a lot of households across the fruited plain, but at the same time, I'm also aware of the fact that $1 million dollars is within grasp of nearly every resident in the country, regardless of income.  I'd bet everyone reading this has a neighbor that has over a million in the bank somewhere.  I'm not there yet, not even close, but I'll get there, and logging it all down along the way will help keep me focused.  Then, maybe then, I'll have a number worth bragging about.
Point being, these are not high numbers in the grand scheme of things, and I'm not looking to brag.  I'm looking to show how easy it is to accumulate wealth — if you're willing to put in the effort.