May 2007: Quest for $1,000,000.00 Dollars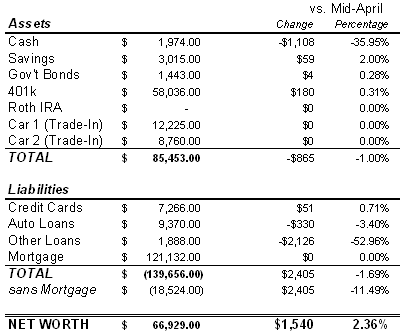 I think I'm going to start doing an update twice per month…
I spend so much time looking over and keeping track of my finances, it's hard to wait an entire month for status reports — especially when I feel as though I'm "this" close to ridding myself of the debt nightmare I dug myself into.
Exciting in a nerdy sort of way.
Not a great finish for the month of April…
Negligible gains in our savings and our checking account took a monster hit — though much of that is answerable to the sizable decrease in the balance of our home improvement loan. In the end, a modest 2.36% gain.
In regards to the home improvement loan, from Bank of America, it was originally $12k at 15.5% (that was the best rate we could get on an unsecured loan — ridiculous) back in December of 2006, we're on pace to be done with it later this month. Thank heavens.
For the next round of renovations this summer, we're going to try the local credit union and probably charge a pretty fair chunk on plastic too if we need additional funding.
The credit card balance tipped to the wrong side for the first time in over a year during this period. I had an unexpected expense for a design project I'm working on — a project that unfortunately I'd already been paid for, so this cut heavily into the profit. Drat.
Hopefully, in the coming weeks, a few more April invoice payments will roll in allowing us to get back on a more aggressive track.
Seven more months to come up with another $33k to reach our goal for 2007.