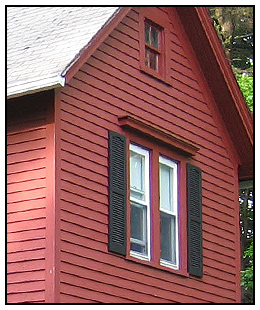 As the weather has finally begun to turn warm, it's now time to start planning for phase 2 of our home improvement. Fun, fun…
This past December, we re-roofed the house utilizing a $12k loan (with a crappy 15.5% rate) from Bank of America. Thankfully, that should be paid off entirely later this month.
This summer, we plan to have vinyl siding put on, a few new doors, a new basement hatchway door, and some of the porches should likely be rebuilt from scratch.
Financing the work, though, has always been a problem due to an insurance issue we have.
Due to things like Hurricane Katrina, insurance companies aren't willing to accept as much (or any) risk these days. Long before the hurricane, our carrier, the horrible Allstate, abruptly cancelled our policy because our home was over 100 years old. Nothing quite like carrying a new mortgage and having your home owners coverage lapse less than 3 months in. Thanks Allstate. Really appreciate it.
Anyway, while searching frantically for coverage, it became very apparent that it was going to be difficult to insure an older home. Amica, while they wouldn't cover the home, was the most straight forward and for that, I'd recommend them to anyone.
They flat out said, "We won't issue a policy for a home that old." I asked about how they can even operate in the Northeast US since most of the homes here were built well before 1950, many before 1850. The response was that many of their customers in New England had been grandfathered in, but as homes sell, or homeowners look to change carriers, they could run into problems.
Seems, I was 'dropped' into this problem by Allstate.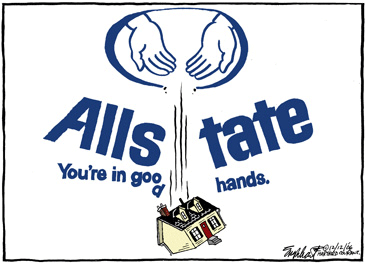 Have I mentioned I'm not a fan of Allstate yet?  Long story short — I eventually ended up on a very expensive State plan. The don't cover much of anything and they require that an inspector come through my home every few months. Each year, when it comes time to pay the premium, they get threatening — insisting that "problems" be corrected or they'll drop coverage. It's an empty threat though — this is the bottom of the barrel. The funniest part is that they essentially ask you to tear down your home and build a new one — oh, and keep paying their premium (400% higher than a 'real' insurance company) after that and things will be fine. But, you'll still need to take a day off from work every few months to let an inspector come in and tell you that your basement takes on a little water after a big rain. Sigh…So, after having this hanging over our shoulders for a few years now, we've made it a goal to get the hell out of this situation. My parents say I should just sell the home and buy one of those poorly constructed contemporaries from the 1980's. No thanks. We're gonna make this place 'look' new. Updates to date:
We replaced an ancient oil burning furnace (seriously, it was a modified coal furnace) with a new natural gas one.
We updated our electrical service from 60amp (with those weird little screw in fuses) to 200amp service with a modern breaker box. We also had an outdoor meter installed so we wouldn't need to let the electric company in anymore to check our usage.
We had an obsolete chimney removed. It was in poor shape and it wasn't venting anything, so it was a problem waiting to happen.
We had the roof replaced. The roof actually had it's original cedar shingles under a couple layers of the typical ones you see these days — resulting in a rather lumpy appearance. We did a complete tear off and installed plywood before having it re-shingled.
Adding siding and doors to that list will make the exterior look new. The non-cosmetic parts of the interior (furnace and wiring) will be new, and thankfully the plumbing is just fine as-is. That, in theory, should put the insurance issue, which has been a thorn in our side the last four years, to rest.
Yes, financially it cost us a fortune to make these upgrades — especially when it wasn't really on "our" schedule… And the return (the future savings on our homeowners insurance) isn't all that great. But now, with them soon to be out of the way (and paid for in full), we should be on a great track for the next decade or so. I can't think of another large scale improvement left to be made. Cosmetic interior renovations will seem inexpensive after this. I hope.
So, later this month we'll have the various contractors come in for estimates. We already have two in mind — both have recently done work on similar homes in the neighborhood and they both look great. It will be interesting to see how different their quotes are.
We'll keep you posted.