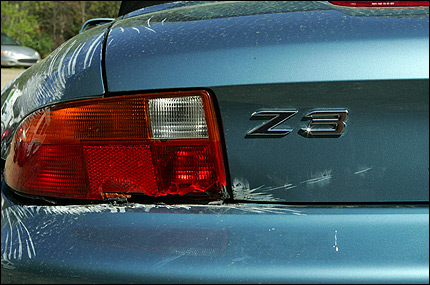 This weekend my wife and I were involved in an accident on the highway.
Cruising along with the top down in my ego-tag at highway speed yesterday morning, the car in front of us kicked a large truck tire re-tread into the air which struck the hood of our car.
Evidently swerving at high speed doesn't quite work like it does in the movies. We spun around a few times across three lanes and ended up facing the wrong direction and tangled up in the three steel cord style of guardrail.
The great news, at first, having gone from 70 mph to zero in the span of less than two seconds, was that we were both okay. Not a scratch between us.
I have to credit BMW — the outcome should have been worse. In fact, I'd bet if we'd been in one of our other vehicles, it would have been worse.
Who'd have thought a convertible would be safe?
After the fact, the news got even better.
As we stood on the side of the highway watching a wrecker tug our car down from the tangled mess of guardrails and torn up asphalt and onto a flatbed it hit me: the last remaining relic of my time as a frivolous spender was gone.
And you know what? That felt good.
Sure, I'd just trashed a $50k car, that at one time meant so much to me, and one that I'd worked so hard to pay for — but since I started to control my spending, I'd realized that it was quite possibly my biggest financial mistake.
Even seconds before that tire tread was thrown into the air, the car was no longer the status symbol I'd originally thought it was, but more a symbol of personal embarrassment — a blatant sign of my former financial irresponsibility. As a result, in recent years, it rarely left the garage.
All in all, a good day in my financial quest.
On a side note, I feel I should give kudos to Drew Loethscher, Victor the tow truck driver, and the rest of the folks at Tolland Citgo in Connecticut. They towed the car and were very welcoming considering the situation. Definitely not the stereotypical gas station/towing company experience.
And so far so good on the Allstate front. I filed a claim online yesterday and a friendly claims rep called yesterday afternoon; though she apparently didn't read anything that I had originally submitted.
Somehow, I think I'll be explaining the situation at least 10 more times to them — though the police report could answer and verify everything I've already told them.
Here's to hoping that everything works out on that end I won't be added to the already long list of very dissatisfied Allstate auto insurance customers.