Accident Update: Repairs Begin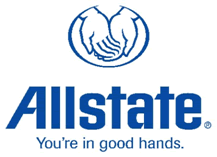 You're in good hands will Allstate.
Well, I'm not going to go that far just yet.
We're up to 5 phone calls so far since I originally filed my claim online on Saturday after the accident. I received a call from a pleasant woman that afternoon confirming the information I'd submitted online — or more accurately, I had to regurgitate all of the info again.
On Wednesday, I received a call from "Joe" at Allstate and went through it all again. Where was the accident? How fast were you going? Did you get a plate number? Where is the car now? I'm not sure if it's that they're disorganized, or if they're going to sit and compare my answers from the recordings they have before determining what to do.
Yesterday morning, rinse and repeat, but this time it was "Angela" from Allstate. One thing I do have to mention is that the staff they have in their call centers are all very pleasant. They all spoke the Queen's English (which is unusually rare these days), so at no point did I feel the need to hang up and call them back hoping for a better agent. I was never on hold for more than 20 seconds, and they didn't sound as if they were brain dead zombies reading from a script.
The in the afternoon, the adjuster called. He was "Mike" from Allstate, though he's likely a hired gun who works for a ton of insurance companies. Again, very upbeat and pleasant guy. Not being from the area, I asked where he'd take a BMW in that condition and he suggested a "Johnson Autobody" and gave me the number. I told him, "Sure, that sounds fine," and took down the contact info.
In the meantime, he said he'd call them to give them the heads up and that I should call them later on in the afternoon to authorize them to pick the car up. Wow — this is sounding too easy.
Not 5 minutes later, my phone rings again, this time it's Wayne from Johnson Autobody. Very nice guy. He went through everything that was going to happen — and all around seemed like a really great guy — over the phone. After explaining the brief history of the company, he gave me three contacts to call at the autobody place in case I had any questions at all.
Certainly not the stereotypical call you'd get from an autobody — no loud torque wrenches in the background, no loud music blaring, no gum smacking, and again, he spoke proper English — very VERY professional! I was starting to think this whole thing might not be as stressful as I'd originally thought.
Received another call from the adjuster, Mike, with the estimate (ouch!). I told him I'd already spoken with Wayne and things were good to go — he offered to leave the check with the car at the Citgo so the Autobody could pick them both up. His job was done.
I didn't leave the keys with the Citgo after the accident, even though it wasn't drivable, but I wasn't too keen on leaving my keys there so I made the journey out to Johnson Autobody to drop them off. Looks a bit like the picture they have on their website — it's tucked behind another auto place, so it's a bit tough to see from the road, but once I stepped into the office, what little remaining apprehension I had over the whole thing quickly evaporated.
I wish this place were closer to home — I think I may have finally found a mechanic's place that I like; this whole thing is going to turn out okay.
I'll report again when the car is ready to come home with how they did.