June 2007: Quest for $1,000,000.00 Dollars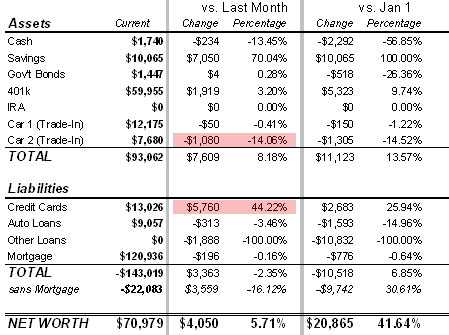 Another month passes, another step in the right direction.
A gain of roughly $4k was less than I'd hoped for, though it's been our average gain for the first 5 months of the year, but we'll need to step it up a bit if hitting $100k by the end of December is going to happen.
Since the mid-month report, I've added back in the trade-in value of my second car that was involved in the accident. We don't have it back yet from the body shop, but apparently it's going to look as good as new — but with that amount of body work on record, it's value dropped over $1k. That's okay though — I can't say there was ever a real solid plan to sell it or trade it in anyway so it will continue to "decorate" the garage.
Another good month on the stock market too. While the 401k didn't go up as much as it did in April, it's still becoming very apparent that the secret to wealth lies there. I really don't have much in there and I'm sadly not contributing much while I attack my debt, yet it manages to go up well over $1k per month consistently — and almost $2k for the past two.
On the liabilities side, we wiped out the home improvement loan I've complained about, which is a huge load off of my shoulders. Since March, we took it from over $8k down to nothing, perhaps making this the last month (finally!) of really aggressive debt reduction. Right now, we don't have anything left sitting at a rate higher than 5.35%.
On the flip side… there is the credit card debt. It nearly doubled this month, but that's due to the 0% transfer we're taking advantage of to finance the home improvements we're planning to make this summer. The balance is currently sitting in an ING Direct account making us about 77 cents each day so it doesn't really feel like debt. Get back to me on that next May!