July 2007: Quest for $1,000,000.00 Dollars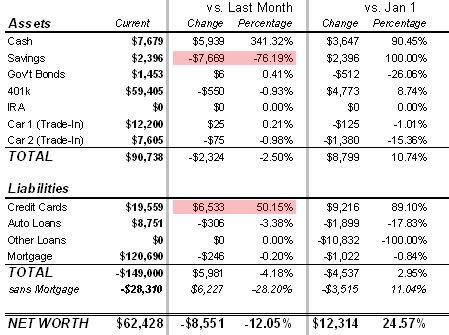 Not as bad as I thought it would be…
The siding project is nearly finished and there is one more $8k payment due at completion. That will wipe out my cash reserves entirely. I think that's when it will set in — all gains to this date so far are gone in the span of a month. But… the house looks nice!
The big movers this month, again, were the savings account and the credit cards. Both are 100% to finance the home improvements.
My 401k also tanked this month. Actually, dropping less than 1% isn't that big of a deal, but with all of the volatility lately, it seems like it's swung a lot further than that over the whole month.
Something very strange, and something I've never seen happen, was that the trade-in value of one of my cars actually went up! It's a model year 2005, so it's not like its hit a "collector" status or anything. Maybe the value of cars getting 45mpg is going up? I dunno, but I'm not complaining. It's likely a fluke. And probably one of the reasons many people don't include their vehicles in their calculations.
My sneaky plan to pay down the mortgage has already made a noticeable difference in just two weeks. I'm not about to get more aggressive than $25/week because I know paying down your mortgage is kinda stupid at the point I'm currently standing, but even an insignificant amount like $25 is truly putting a dent in it. To think, year to date, I've only knocked off a little over $1000 on the balance, but just last month with a couple of $25 payments, it took off nearly a quarter of that. That's HUGE and it costs nearly nothing to me.
In the end, once the renovations are complete, overall, I think my net worth will have dropped around $16k. Not too bad considering we've spent right around $26k on renovations, but it still feels like a kick in the stomach.
I'm trying my best to look at it like a 6-month setback. Hopefully I can keep on the same track (of debt re-payment) that I've been on since January, but it might be tough over the next couple of months as I'm not real comfortable being cash poor. And as I said, when we write that final $8k check, we'll be broke.