Whoever said Money can't buy Happiness isn't Spending it Right.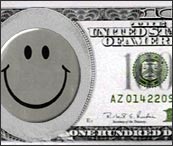 From one of MP Dunleavey's recent columns regarding "Seven Ways to Buy Happiness", of which I agree with very little, comes the quote:
It's so easy to drift through life, thinking of money as a merely financial matter — and happiness as an emotional one. The two are connected, and how you spend can change your life for the better.
Today's posting kind of touches on what I started back in May with my "Can you really separate money from emotions?" post.
The answer to that question, for me, was no.
My answer to today's question, Can money buy happiness? Absolutely.
I guess, based on both of my answers, that I don't fall into the "drifting through life" category she refers to when it comes to money and happiness.
But is money to blame for my happiness to this point?
On the financial side, I can't say I'm blessed with a huge nest egg, a six-figure income, or will I ever be in a position to attempt Timothy Ferriss' 4-Hour Workweek lifestyle. I also can't claim that I'm holding out to win Powerball some day. As they say, you can't win if you don't play. And I don't play.
Hmmm… based on my finances, maybe I shouldn't be happy?
Or maybe happiness and finances aren't related at all?
I dunno, I still stand by my first impulse — money can buy happiness.
I just haven't bought it yet.
That said, I still like to think of myself as a generally happy person. I can't think of a single day in my life that I could consider a bad day. Obviously, some have been better, while some have been worse, but I don't think I could call any of them "bad".
Further, the phrase Rush Limbaugh often mentions, "Each year is better than the last," fits me too. I'd say that's been true since around 1985 — things have just gotten better, progressively, with each year passing.
Financially, it holds true as well. Thanks to those nifty Social Security progress reports the government sends out to everyone, a quick glimpse shows that my income has increased each year since I started working and contributing to social security. Not a down year year yet.
The income from my side business has followed the same trend at an even more rapid pace.
So I guess I can't wait for next year! Or the year after.