September 2007: Quest for $1,000,000.00 Dollars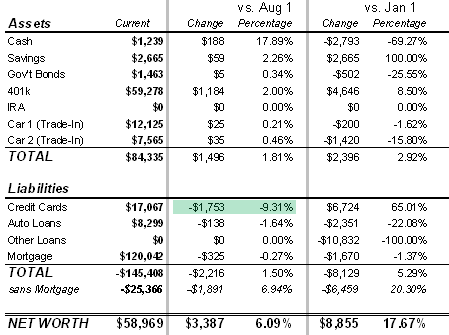 Back on track. Phew!
After a few months headed in the wrong direction, finally I've managed to right the ship despite the stock market woes.
Speaking of the stock market, a late month rally put me ahead for the month on my 401k balance. Taking that out of the equation, the assets side of things pretty much went no where.
That's okay though — the plan is to wipe out the liabilities side first and foremost and everything there is dropping. Not much of a dent in the auto loan, but I don't actually have a payment due until 2008, so I'm focusing more on the credit card balances.
I'm happy with the $1753 drop there, but it should have been better. I still managed to charge around $425 dollars. That's still $600 less than last month, but I can cut it even more I'm sure. That will be the goal this month.
In the end, a 6% gain is something to be content with…especially after two consecutive months of double digit drops.
(Still can't explain the wonky rising car values… Another few months of this, and I may drop them from the calculations.)