Amy Toyen: June 20, 1977 – Sept 11, 2001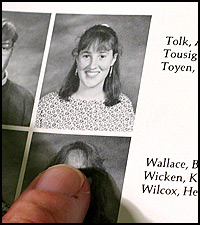 Today is September 11th.
In some ways, I'm kind of glad that the "hype" that's surrounded the date for the last few years has finally subsided. I mean, is it really necessary to commemorate every single anniversary? I think that sort of thing had gone a little too far in the United States. Everyday on the calendar is an anniversary of something — but does it have to be mentioned every year? I don't think so.
Now I know, there are people out there that claim 9/11 is different and that its so we "never forget". Well, I'm not sure anyone in the western world over the age of 15 will ever forget anyway. I know I haven't forgotten.
I actually knew someone in the World Trade Center that day.
These days it seems most people claim that they knew someone who died on September 11th, so as to feel connected to the event (which, quite honestly, why would anyone want to have a connection?), but I think a lot are just blowing a lot of hot air to get attention or something. That's sad.
I went to high school with Amy Toyen. I can't claim that we were close. In fact, I'd have to say that I knew her older sister even better than her, but she knew my name, I knew hers, and we occasionally sat next to each other on the bus to track meets.
She was the "manager" of the track team in high school — a position she took over when her older sister Heather graduated.
What exactly does a "manager" do for the boys track team you ask?
Well, if you tracked down all of the members of the boys track team from her years in high school, I'd bet every single member would remember vividly that she was the girl who brought blow pops for all of us to eat on the bus ride home.
It sounds silly, but that's just the type of person she was. For some of us, the blow pop on the bus rides home was one of the perks of being on the track team. Actually, when compared to running up hills repeatedly until you couldn't feel your legs, I'd say it was the only perk. And it was because of Amy.
In addition to being the ever-popular supplier of lollipops, at home track meets, she maintained the score book — that's where all of the competitors times, distances, and heights are recorded. Scoring a track meet is rather confusing when you get right down to it — but she was second to none.
Sometimes it was like she had the school's all-time record book at her fingertips too — always handy when striving to break a 20 year old mile time.
In high school, I was a distance runner. I often ran 4-5 events per meet, but when the competition was stiff, the coach had me run my two best events — the long ones.
The first event of a meet was the 5000 meter. The second to last event was the 3200 meter. Looking back, it was probably set up that way so that we distance runners had time to rest between the two longest events.
Basically, I'd have about 2 hours to kill between my two events. More often than not, I'd spend most of that time leaning over the counter into the "tower" shooting the breeze with Amy…
"Hey, what was my time last week?"
"Amy, do you have a pair of pliers? My spike wrench snapped…"
"What time to I have to hit to qualify for State's?"
"That kid over there from Tolland — can you see what he ran last year? I don't recognize him…"
"Any chance I could get a blow pop now? Please? Pretty please?"
She always had the "right" answer to each and every inquiry.
When the news circulated that she'd been in the building, and it was confirmed when I saw her name go by on a ticker on television a few days later, I'm not sure that I was mad. Or even angry. My stomach was in a knot — I was shocked. And I was sad. Sad for her family and those who knew her, and yes, even those of us on the track team. She was one of the few 'genuine' people in our high school full of 'entitled' snobs.
They erected a statue of her at the local library where we grew up. I'm embarrassed to say I've never actually gone to visit even though I've driven by numerous times over the years.
I've seen pictures though and, for me, it didn't do her justice. I prefer to remember her for her huge smile, her freckles, her oversized glasses, and with an extended arm holding out a blow pop. And that's probably why I've never stopped by to see the statue.
I'm going to go out and buy a bag of blow pops today.