October 2007: Quest for $1,000,000.00 Dollars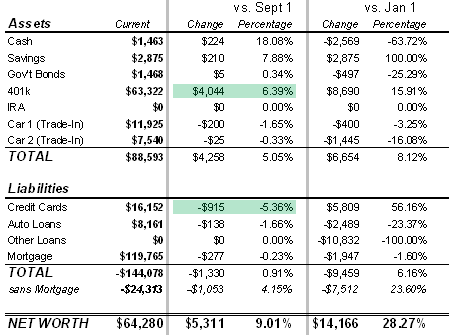 Another month headed in the right direction!
That's what the numbers say, anyway… I didn't really *feel* like I made any progress in September.
I mean, I'm the type who usually pays the mortgage nearly a month in advance and I was only able to afford it three days before it was due this past month. I hate cutting it that close.
Obviously, the big jump came from my 401k. Over three quarters of the increase is tied up where I can't touch it. I'm still *very* cash poor and that's mostly due to the fact that a number of my clients are behind on their bills. One of these days, my mailbox should have a decent number of checks waiting in it.
Until then, I'll continue to tread water.