Virgin Mobile Pre-Paid Cell Phone Service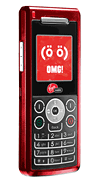 Received my new cell phone last night. Took me nearly 10 minutes to get the package open — it came sealed in one of those super sharp plastic enclosures that you need scissors and a crow bar to get open. Thankfully I didn't cut myself.
Took me another few minutes to get the stubborn battery door off. I was pushing so hard, I was concerned I'd snap the phone in half.
But after that, it was smooth sailing. The phone is a lot smaller than I'd expected. The thing is tiny, but feels nice and solid in my hand. Definitely not a hunk of junk, by any stretch.
I went online to activate the phone and have a number assigned. Not even 30 seconds after submiting the phone's information, I had a text message come in saying the phone was now active. Quick and painless. Didn't have to sit on hold, didn't have to speak to a person, didn't even have to lift a phone. That's just the way I like it.
Sadly, my new number contains both zeros and ones — so I can't say things like, "Yeah, my number is B-R-A-I-N-Y-8," but that's okay, I guess. I'll live.
So far, so good. I'm very happy with the phone. The signal looks good, call quality was better than my Verizon phone. The volume, of a call and the ringer, destroys my old phone. I used to hate how I could never hear the other end of a call and I don't think that will be a problem with this phone.
Voicemail set-up was short and simple. They even had an option to skip putting in a password each time you want to check messages — and that's a feature I like. I'm sure Verizon had that option somewhere too, but it certainly wasn't well advertised.
I also set up my account online to automatically bill me the $20 every 90 days to keep my service active. It comes out to $21.20 including taxes, but wow, I mean, by next month, I will have already cut my costs by $30 and that's including the cost of the phone itself.
Better phone, better features, better call quality and at one sixth of the cost.
Why didn't I do this sooner?