Local $15 Million Powerball Winner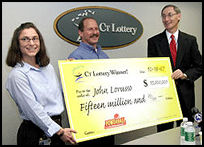 A couple of weeks ago, the winning Powerball ticket was sold relatively close to where I live. Okay, not that close, but I've driven through the town before — that has to count for something!
And no, I wasn't the winner. You can't win if you don't play and, well, I don't play.
Anyway, here's an excerpt from my local paper:
For two weeks, no one knew who bought the winning $15 million Powerball ticket at a convenience store in Ashford earlier this month.

The winner kept the news to himself until Wednesday when he showed up at the Connecticut State Lottery headquarters in New Britain to claim his prize.

John Lorusso, a regular at the Squaw Hollow X-tra Mart, said at the lottery headquarters Thursday that he had been waiting for his business partner to return from vacation before telling people he was the state's newest millionaire.

I just felt it was right to wait," he said.

Lorusso, 43, of Eastford, received his prize Thursday at the lottery headquarters.

He opted for the lump sum of $7,035,647.28. After state and federal taxes, Lorusso will get $4.9 million.

"I have more friends that I had before," Lorusso said jokingly. He said he played Powerball twice a week for about three years. This year, he purchased a Quick Pick with the winning numbers 2-4-14-15-28 and the Powerball 23.

The drawing was Oct. 3, but Lorusso didn't realize he was the winner until a few days later when he stopped by the store.

"They've got the sign up, `The winning ticket was sold here,'" Lorusso said.

Lorusso grabbed a printout of the winning numbers and brought it to his car where he compared them to the numbers on his ticket.

"These look a lot like the numbers," Lorusso said he thought to himself.

He wanted to keep the news to himself until his partner at a commercial printing company returned from vacation.

He said he felt bad lying to them and stopped going to the store. Lorusso returned Wednesday night to explain himself.

"I didn't want to lie to you guys anymore," he told them.

Lorusso said he has no immediate plans for his money, but wants to be smart with it. He has denied his son's request for a flat-screen television.
My first reaction was, that's cool that he kept it to himself and waited for his partner to return from vacation.
My second reaction — how can they still call it a $15 Million Jackpot when he's going home with just $4.9 million?
Talk about false advertising?!
I realize that in Powerball there is the option to take a lump sum upfront which cuts the whole thing in half (does Powerball roll the "left over" into the next drawing?), and then the government takes their cut, but touting it as a $15 million dollar prize when it's actually less than one third of that seems a little… crooked?
Powerball's website has the current jackpot amount in HUGE bold face at the top of their page — under it, the fine print which lists the "actual" cash value. So, as of today, according to them, $26 million is actually worth $11.9 million.
Um… Yeah, sure, that makes *perfect* sense.
Even still, just the $4.9 million should be a nice supplement to his income for the rest of his life. And really, if I were him, I'd go out and buy that flat-screen television.