2007 Utility Expenses Recap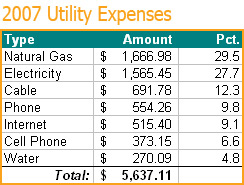 Yep, another "end of the the year" post.
In the last few months of 2007, we actively started trying to cut down on our utility expeneses, but for
comparison's sake for 2008, last year's totals are to the right.
With the cost of everything seemingly going up each year, it will be interesting to see if we are able to cut these costs any…
It's a bit of an eye opener to see that the cable bill adds up to so much — eclipsing the phone (which is more important) and the internet (which we use a lot more than the tv). I'm not about to drop cable though — the History Channel comes in mighty handy when the networks are all showing infomercials. And my wife is addicted to the Food Network…
Is it worth almost $700? Well, I'm not so sure now…
One value I know will drop in 2008 is the cell phone expenses. I dropped Verizon Wireless in favor of a pre-paid plan with Virgin Mobile in the Fall and that could lower my yearly costs to under $100.