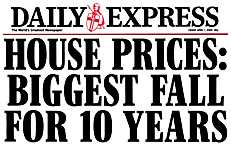 It's been a bit of a reality check for me adding my house to the assets calculation for my net worth updates.
For the longest time, I was thinking, "What housing slump?", but now I see it first hand. Already this month, I've seen the value of my home drop 5-figures. Ouch.
It's tough to get inspired when you see your assets dropping $12k in the span of a month through no action of your own. In fact, it kinda sucks.
It's also a bit of an eye opener to see that my net worth is mostly dependent on the markets and not what I do with my paycheck. I guess I always knew that (based on my 401k fluctuations), but never really visualized it like I am now — probably because my home value is over 3 times as high as my 401k balance.
The good news is that that works on both sides — when the markets are up and housing prices are on the rise, I'll see my net worth rising at the same rate it's falling now. When those days return, well, wow, that will be *very* fulfilling.
For now though, I'm keeping my spirits up by concentrating on something I do have full control over — the liabilities.
So far this month, I've already knocked off another $1100 from my non-mortgage debt. And with 2 paychecks remaining this month, that news can only get better.