Plant a Penny, Grow a Money Tree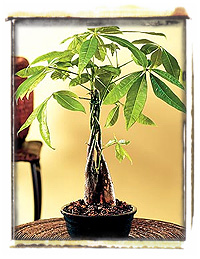 Next to my desk at work, on the window ledge, I have a money tree.
More often than not, my co-workers excitingly mistake it for a marijuana plant and move in for a closer inspection. Not sure what that tells you about my co-workers.
When I tell them it's a money tree, they kind of roll their eyes like they always do whenever the topic of money rolls into my office, and then walk away.
Again, not sure what that says about my co-workers… ;0)
April will be the first month in my quest that I switch gears, making savings my top priority rather than debt repayment.
With Spring officially getting started (our daffodils in the yard have popped up) — it seems like the right time to start planting things.
No, not in my window this time, but in my ING account.
Yeah, rates are currently terrible, but I don't have enough on hand right now to drop into a fund with Fidelity or Vanguard (my top two choices).
One penny at a time and it should build up pretty quickly, I'm sure, just like the debts fell. The ball is already rolling with my $75/week savings plan that kicks off tomorrow.
Hey, that's 75000 pennies per week! Something is bound to grow, right?
By mid-Summer, I think some of my pennies will most certainly have become trees.
Things are really starting to fall together nicely.