Net Worth Update: April 2008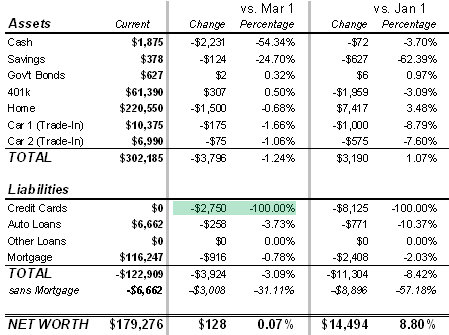 As has been the case of late, almost in a routine fashion, the end of the month upswing in the markets has bailed me out of another negative month.
The train keeps on rolling… not a single down month since July 2007 and that was due to a siding payment. I'd be shocked if I can go a full twelve months with the current market turbulence, but we'll see.
In the end, March 2008 moved my net worth up another tiny fraction of a percent. Just $128 dollars. I'm not real impressed, but I can't complain either.
The mover on the liability side was the credit card debt. It's gone. Eliminated. El finito.
That's a *huge* load off of my shoulders.
The mortgage balance also fell a little bit extra due to the fact that there were 5 Monday's in March. (I make automatic principle payments each Monday.)
The shaker for the month came on the assets side in the rows I have essentially no control over.
Using my outrageously unreliable and terribly un-scientific home value calculation, the value of my house fell another $1500. My two cars also lost substantial value.
Neither, the drop in the house or the cars, really matter though as I'm not looking to rid myself of any of them.
I'm really looking forward to seeing how things progress in April. I still don't have a real concrete plan in place, but I think I should start seeing the pendulum start to swing from the liabilities side and towards the assets side of things in terms of growth (which has remained relatively static for months).