Benefit to Losing an eBay Auction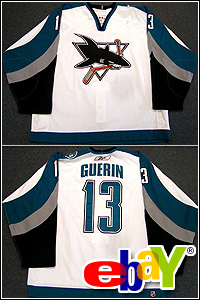 So Wednesday night, I ventured onto eBay again, except this time I wasn't looking for a good deal…
Finding myself with a bit extra in my checking account and without any credit card bills in sight (woo-hoo!), I took a big step backwards and went hunting for game worn hockey jerseys. My vice.
I had one in my sights. Thankfully it wasn't a really high priced one, but still one that would fit nicely into my collection. I set-up a last second sniper bid and went to bed confidently thinking it would be mine in the morning.
I lost.
It doesn't happen very often, I have to admit, but I was outbid.
The strange thing is that there wasn't that feeling of disappointment when I saw the email letting me know that I had been outbid — an obvious sign that I didn't really want the item in the first place.
But throughout the day yesterday, it had me thinking, I was totally prepared to PayPal out a few hundred dollars the night before.
Since I lost, I still had that money in my checking account…
You know what I did?
I sent it to the mortgage company instead.
That should teach me not to lose any more auctions. ;0)
Or perhaps I'm just turning over a new leaf.
Nah…