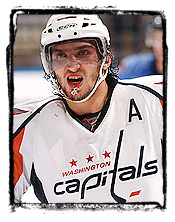 I didn't get much done this weekend. Motivation isn't quite at an all time low, but it's not far off either.
I'd had plans to spend some quality time updating the blog, but it never happened.
I ended up playing an NHL video game instead — for hours. I'm a little embarrassed to admit it, but according to the computer, the last time I played was back in October which makes me not feel so bad.
Jumping on the bandwagon, even though they've been eliminated from the real life playoffs, I played as the Washington Capitals.
Sometimes I wonder how I found the time to even play video games in the past… By past, I mean like over 10 years ago. Seems I never have that time anymore and I have no idea what I've filled it with.
I'd also planned on cleaning up the curbside on the far end of the property.
See, we live on a corner, so there's twice as much 'street' to clear which entails picking up all of the leaves, sticks and plain old debris that lines the curb. Basically, you want to get as much up yourself so that when the street sweeper (eventually) comes by to pick up all of the sand that's been spread on to the road over the winter, it leaves the pavement bare for the entire summer.
Yesterday, my wife and I did manage to get out there and get the job done.
Apparently the teenagers across the street from our open lot prefer Taco Bell and Marlboro smokes. Shocking, huh?
How do we know this? Well, our curbside is apparently their late night trash can. It's also their overnight parking space for some reason even though the family paved their entire front yard (yeah, it looks, um, ghetto) and has plenty of room for all of their run-down vehicles.
In hindsight, I should have put the pieces of their broken glass water pipe on the hood of their mother's car, but I just threw it out. She strikes me as the type of woman who'd pat her kids on the back for that sort of thing.
Really, who paves their entire front yard??? It's a single family home with a parking lot for a front yard?!
I hope they move.
Soon.
We'd also planned on getting the basement, um, well, decontaminated. The issue we have down there hasn't exactly gotten worse, but it hasn't gotten better either.
Thursday night we went out and purchase some kitty litter — and I can I just say, that stuff is a bargain! Really. I've never had the pleasure of spending so little money at Walmart for something so heavy that I had to struggle on the way out to my car.
The plan was to use the litter to soak up the pooling water — something we'd planned to do this past weekend — but it didn't happen.
Friday, my wife, she does all the talking, called a local plumbing company to have them come out and take a look at our sludge problem. They'll be stopping by tomorrow (Tuesday).
The good news from the call is that they confirmed that it was apparently pretty common for the kitchen plumbing not to be connected to the city sewer line in favor of a dry well.
That explains the plumbing that I see in the basement. It also explains the hole I covered with a big rock in the back yard — that's the dry well and thankfully not some sort of outdated "little house on the prairie" septic tank of some sort like I'd originally worried.
The bad news is that the plumber also told her that, to him, kitchen wastewater is more foul than toilet wastewater. My take is that it was a warning shot meaning that this is going to cost us more than if we had a "real" sewage problem.
I don't know why, but for some reason, I don't consider the kitchen sink water to be sewage, but holy crap, it freakin' stinks…