Faded Glory: The Dog or the Family?
My wife pointed this out to me last night as she flipped through this week's Walmart flyer full of deals for the upcoming long weekend.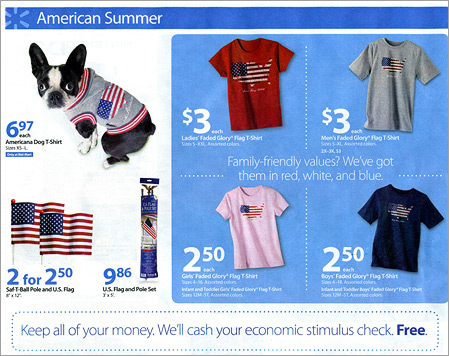 Now, obviously Walmart is trying to mimic Old Navy's $5 flag t-shirt idea (a strategy which Old Navy has apparently abandoned) and then undercut them somewhat. Looks like a pretty good deal.
For all I know, they've been doing this for a couple of years now.
I'd never heard of this line of clothing before — though the "slogan" they chose — "Faded Glory" can be interpreted many different ways.  That's a different discussion and not something I'm about to go into.
But what really struck my wife is that Walmart is advertising that you can clothe your family for less than you can clothe your dog.
The dog outfit costs more than double what an adult t-shirt costs?!
How messed up is that?  Maybe the dog version is of a better quality?
But hey, it also says at the bottom that they'll cash my economic stimulus check for FREE!
Oh, now I'm totally sold.  I'll take 400 Men's Faded Glory Flag T-Shirts please…