Memorial Day 2008: Free Fun for All!
Couldn't make it to a Memorial Day parade this year? Don't worry, I've got you covered…
The one thing I like best about the American flag-waving holidays is all of the unavoidable free entertainment. This Memorial Day, my wife and I attended two different parades. TWO?!
I like parades. I like to watch people, I like marching bands, and I like big trucks. What better place is there for those three things than a parade? And thankfully, parades are still free.
The first stepped off at 8:30 am. It was the parade that I used to go to growing up — not the one I actually marched in with the high school band, but the one I'd consider the "parade of my childhood".
It featured some veterans, some Brownie troops, a bunch of fire trucks, and some tractors. A few images from the festivities are below:
The Korean & Vietnam War Vets
The future Vets — not sure why they needed to be packing…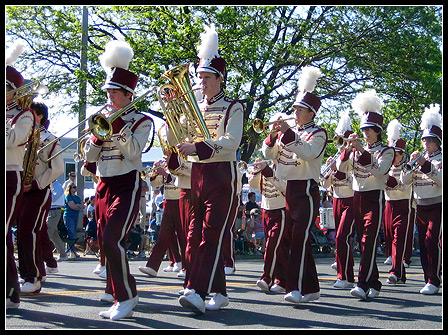 The FHS band — half marched in this parade, half in another…
Can there be a parade without a local politician in a classic car?
Seems as each year passes, the more casual the Brownie uniform becomes… Would it kill them to wear the whole outfit for a parade?
The father of a childhood friend actually drove this fire truck when it was still in service. He passed away a few years ago, but I think I can say that his father is why I consider this parade my hometown parade.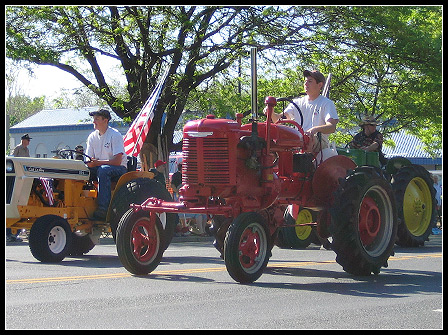 Tractors aren't really my thing, but it's always fun to watch a bunch of them drive by. What I couldn't figure out is where they all came from? Seems that all of the farms in the area I remember have turned into McMansion farms or Walmarts…
After a quick stop at home (I mowed the lawn), we walked down to our local parade and took up a nice comfy spot on the curbside and waited for our "new" hometown parade to begin. Step off was supposed to be at noon, but I think things got going a little bit late.
This one, again, featured a few veterans, a bunch of Brownies, some fire trucks, but no tractors…
Instead, this one had lots and lots of military equipment, a bunch of local pageant winners, some horses, and a crazy military helicopter doing tricks above the crowd:
I captured some nicer images of the helicopter, but this one gives a little perspective as to how low it was flying. Thankfully it didn't get tangled in the power lines.
The parade steps off. See how low the helicopter was? Really, it flew around for about ten minutes. I'm not sure I've ever seen a military one flying around that close-up before.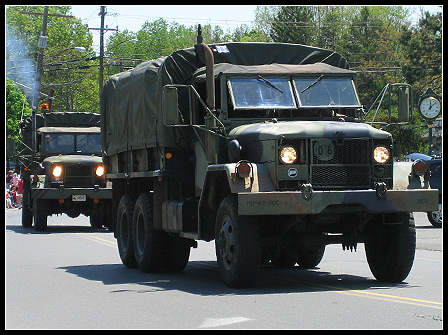 Some of the previously mentioned military vehicles.
I've always kind of wondered what kind of chaos would ensue if ever there were a fire in town during one of these parades. While it's obvious that not all of the firemen are in attendance, all of the trucks seem to be.
Our town seems to have an endless supply of little girls in tiaras riding in horse drawn carriages. It's weird, I've lived here for almost six years and I have yet to stumble upon one of these beauty pageants in progress, but based on how many winners we have, they must have at least one per week.
I wonder if the horses have any idea what all the fuss is about?
Afterward the parades, we drove around in the convertible for the remainder of the day. Actually, we drove around until my forehead turned bright red. I'm feeling it right now. Ouch.
In the end, if I omit $49.18 fill-up on the car, we didn't spend a dime on Memorial Day this year, but we still did a lot of enjoyable things.
And now it's time to finish off the day perfectly — watching game two of the Stanley Cup finals. Go Penguins!