Net Worth Update: June 2008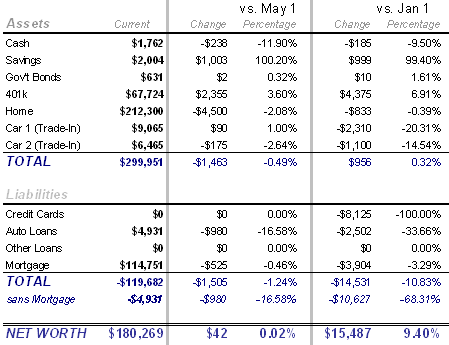 Wow — talk about squeaking one out in the end…
As hoped for, the seemingly common end of the month upswing in the markets propelled me to yet another positive month — up just $42.
It's not great, but I'll take it.
Obviously the huge drop in the value of my home had a lot to do with this month's totals — it's not easy to cancel out a $4500 drop in value. Thankfully, the 401k did manage to cancel out over half of it!
On the plus side, motivation-wise, I'm pretty happy that I was able to reach my short-term goal (since readjusted) by knocking $1000 off the car loan and adding $1000 to savings.
I'm also quite proud of the fact that I was also somehow able to wipe my credit card balance back down to zero after racking up over $1k in charges just a couple of weeks ago.
In the end, June is looking to be a rather bland month financially. Sorry — not too much excitement on the horizon.
My new focus will be more on the mortgage, but at a very relaxed pace as we're also going on vacation this month, so the more I have in the checking account available to me, the better…