Summer Vacation: Coming in Under Budget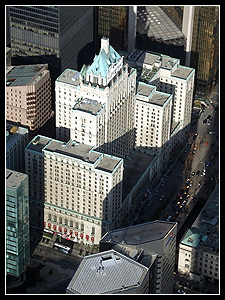 So last month I mentioned that we'd be going on a summer vacation this year.
I called it a "10 day/9 night marathon of museums, festivals, concerts, baseball games, football games, zoos, aquariums, amusement parks, and various roadside attractions."
We researched hundreds of hotels on the route, yes, hundreds, and started making reservations for the first few nights, you know, just to make it feel, I dunno, real?
Yes, we were going on vacation this year and we have the reservations to prove it.
Since then, we've all but finalized our route and where we're staying for 8 of the 9 nights. The last night is still a little wishy-washy but we'll get that squared away in the next few days.
One thing we're doing differently this year than in past vacations is, well, making reservations. We've never done that — our Vegas wedding being an exception.
Usually we just pull up to the hotel that looks the nicest and book a room right on the spot. As a result, we've stayed in some pretty posh locations like the one pictured. At the same time, we've also spent a fortune to do so — obviously I'm purposely "forgetting" our stay at South of the Border.
On this year's vacation, we're going to be hitting one big city after another — Cleveland (no longer the mistake on the lake), Detroit, Chicago, and Toronto are the big ones. Big city downtown hotels (again, like the one pictured above) run a minimum of $250 per night and that's just not in our budget anymore.
So instead, we're staying in, well, still Cleveland (the city's former notoriety as a mistake keeps prices down apparently) but for the other cities, we'll be staying in Dearborn, Skokie, and Markham for a fraction of the cost — like half price with free admission to area attractions included. Yeah, it's that good.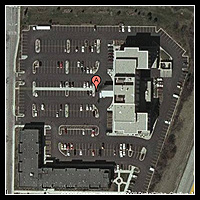 Using Google Maps as our primary tool, we've compared the various "suburban" hotels using satellite images. Yes, I can tell the feel of a neighborhood from a satellite photo. Call it a gift. I, myself, call it "Ghetto-Vision".
Anyway, what I've been looking for mostly is the parking situation. I hate paying for parking. I despise it. I'll walk over a mile so as not to pay for parking. I hate valet parking even more. I have to pay you to take my car away? Um, yeah, I don't think so.
Those are two things that are almost inevitable at a downtown hotel.
From the satellite photos, I'm looking for a spacious parking lot all around the hotel — with some cars in it to prove that people actually stay there. Some grass, a chintzy chain restaurant like Chili's or TGIF's across the street or something, you know, that type of thing. Not that we'd eat at a place like that (I'm not fond of either of them), but they're often a good indicator of the type of area it is.
If a hotel passes this satellite test, we start looking at the rates and, so far, everything has been very accommodating to our budget.
It's funny how I keep mentioning a budget — we don't actually have one. We just don't want to be paying for this vacation for the rest of the year. I'm prepared to spend around $4500 total, but I'm really hoping it doesn't come anywhere close to that.
And so far, by staying just outside the city (and often times, that puts us closer to the attractions anyway), we're saving a bundle.