Experience of Purchasing my First Home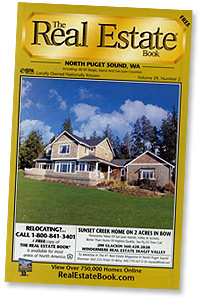 When I purchased my home in the fall of 2002, I knew going in that it was going to be a work in progress. A fixer-upper of sorts.
I mean, it was one of those real estate listings with "AS-IS" tagged on. Never a good sign.
I remember my real estate agent calling me up at work and saying that he had a few new listings come in that I might be interested in.
On the way home (my bedroom in my parents house), I stopped by the RE/MAX office and picked up the MLS sheets printed out from an inkjet running dangerously low on ink. It was nothing new, I'd been doing this for at least two months without anything that remotely peaked my interest.
For whatever reason though, that night, after dinner, I brought my younger sister along for a "drive-by" of two of properties the realtor had printed out for me. It was about a half hour ride in total and neither house really interested me.
The next morning, while at work, the real estate agent (who was obviously growing impatient with my complete lack of excitement from his suggestions) called again and I asked if I was interested in any of the properties on the MLS sheets.
"Nope."
Now, at the time, in the summer of 2002 — houses were selling even before they hit the market. Certainly a different climate than we find ourselves in today.
I'd found a few homes that were perfect, only to find out that by the time they made the newspaper (or even the internet) and I'd caught wind of them, they'd already been sold — usually within the same real estate office that listed them. It was really frustrating.
It was almost to the point where buyers were putting down deposits on homes sight unseen.
Over my lunch hour, I did another drive-by of the two "better" homes that I'd driven by the night before.
One was an updated cape, but a bit smaller than I'd like, it only had a 1-car garage, and it was on a busy road.
The other was a big dark decrepit looking thing with grass approaching the 2 foot mark. Short of boarded up windows, it was obviously abandoned.
Hmmmmm…
What did I have to lose? I hadn't actually gone through a house for a few months at this point, so I called my agent back and said, "You know what, yeah, let's take a look at the red one and the tan one…"
I took the rest of the afternoon off from work and headed down to the real estate office — I had become a bit of a familiar face (and probably an inner-office joke of sorts) and as I was waiting for my agent to get his stuff together (i.e. find his lighter), the listing agent for the big red house, an older gentleman, said to me, "I think this is going to be your day…"
God damn shyster… Don't you tell me… That's what I was thinking — I didn't vocalize it.
So we hit the tan house first.
The agent opened the front door and we walked in to two cocker spaniels barking their heads off. They were penned in the kitchen using one of those baby gates people use at the top of the stairs.
The house looked alright I guess, but it reeked of, well, dog piss. I mean really bad. We're talking so strong that an entire case of Lysol canisters wouldn't be enough to solve this. Needless to say, it didn't leave me with a great impression.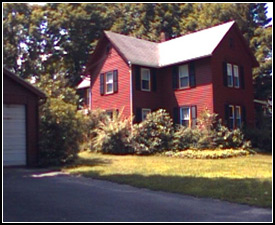 Off we went to the red house. That's the actual photo attached to the real estate listing — from a distance, yeah, it looked semi-decent.
As we pulled up in my agent's ashtray of a car, this time *he* said, "This is going to be the one for you!"
"I just hope it doesn't smell like dog piss," I replied.
We worked our way up to the front door and he struggled to get the old fashioned latch style storm door to open. One of the panes of glass on it cracked. Not a good start. We broke the house.
He finally gets the front door open and we walk in… Wow! Dark wood paneling (warped too!) and shag carpeting. I'd never actually seen a home so out of date in real life… Then the smell hit. Stale. Musty. Damp.
The house had been vacant for around 6 months and, well, let's just say that it was pretty apparent. Still fully furnished with, well, cheap, old, sometimes broken, and, really, just crappy furniture…
Peeling wallpaper in the rooms that actually had wallpaper. Cobwebs everywhere. It really did look like a haunted house. Smelled like one too!
The MLS sheet stated that the home had hardwood floors. I guess that was truthful, but they failed to mention that they had been painted battleship grey.
The toilet had a post-it on it saying "Don't flush". I tempted fate and gave it a try. It didn't flush.
No matter, it was a neat old house and I was feeling adventurous, so I went through single every room. Two of the bedrooms had 4 miniture size beds in them — not twin size, but not toddler sized either. Odd — unless the seven dwarfs resided here.
I checked out the walk-up attic, looked around the scary basement, and even hit the "play" button on the answering machine that indicated that there were 5 new messages.
As we left I was thinking, "Hey, that was kinda fun… No way in hell I'd live here, but it was a neat walk through…"
When we returned to the RE/MAX office, we looked through a few more listings through what they considered their "super secret agent only website" (I'd already seen every listing on realtor.com) and the listing agent for the big old haunted house poked his head into my agent's office and said, "I really thought that was the one for you…"
I laughed him off, "Yeah, right…" and called it a night.
After sleeping on it, I felt my initial reaction was the correct one. Haunted houses are neat, but not exactly an ideal place to live. Even so, I drove by it again on the way to work.
It was a good 600 square feet larger than any of they other houses they'd steered me towards in my price range. It looked HUGE from the street. It had a two car garage. It was on a quiet street with well kept homes (excluding itself). It had an empty lot next door.
I arrived at work and called my agent to inquire about the lot next door — was it part of the property?
"The red one?"
"Yeah, the red one."
He wasn't sure. I heard him call out to the listing agent. He wasn't sure either. I asked them to find out…
About an hour passed and the phone rang.
"Paul from RE/MAX is on the line."
I took the call. He started off with his canned, "Good morning, how are you…" like he'd never spoken to me before. I really hated that. He did it all the time. Nice guy and all, but when you've been dealing with someone for a few months, you can drop the whole act…
Anyway, the property went all the way to the corner. It was just one lot, but a big one. I asked if the listing had been advertised yet.
"Nope, not beyond the MLS sheets."
"Can I take another look?"
"Really? Yeah — sure!"
I went through the house again that evening but this time I didn't treat it as a total joke…
This is the first post in an ongoing series I'm working on dealing with the large upgrade and renovation expenses involved when you purchase and live in an older home.