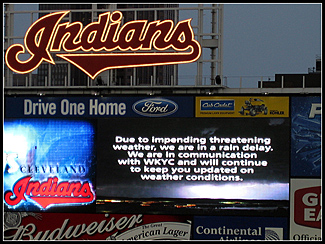 Sigh… I was hoping to be able to write up a recap of each day (and related costs) on the fly, but due to a two hour rain delay last night at the Cleveland Indians/San Francisco Giants game, we got in so late that I just wanted to hit the sack.
Anyway, early morning greetings from Cleveland, Ohio. Shortly, we'll be departing for Madison, WI — with a short "activity break" in Chicago to break up the drive…
Hopefully I'll find a few minutes this evening to show that even with gas prices approaching $5/gallon, it's still not very expensive to travel by auto.