Net Worth Update: July 2008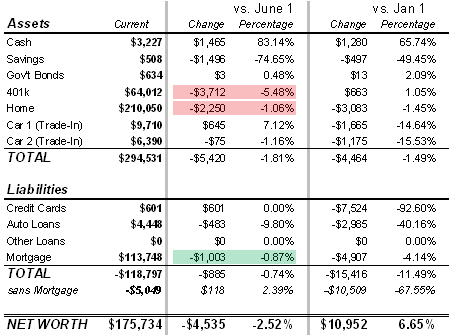 The streak is over. I'd plateaued for a few months, hovering around a net worth of $180k, but the last week of June took it's toll.
An over $5k loss on the assets side was too much for me to overcome. The value of my 401k dropped an all time high of $3712 and the vlaue of my home continues to fall a pretty decent clip as well.
There was some good news too though…
The liabilities are continuing to fall. Switching gears from the auto loan to the mortgage is inching me closer to crossing off a few more 2008 goals.
In fact, I'm confident that the PMI on my mortgage will indeed be eliminated this month.
You may notice that I took on some credit card debt last month — this was because I was on vacation. It's been paid off in full already and I've also replenished much of what I took out of savings.
I haven't gone through all of the spending on vacation just yet, but it cost a lot less than I expected. No, really… The price of gas shouldn't be an issue for anyone.