The Departure of Steve & Barry's — My Bargain Basement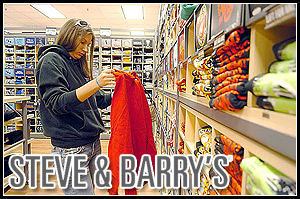 While on vacation last week, I caught wind of some disappointing news.
My latest favorite store Steve & Barry's, depending on what paper your read, is on the brink of bankruptcy and is on the verge of closing most of its stores.
I only discovered Steve & Barry's (wikipedia entry) about a year ago. My sister had a few university sweatshirts with their tag in them, but I'd always kind of brushed it off as a mom & pop shop local to her school or something. That is, until I saw one in a mall relatively close to my house.
The first time I ventured into the store, I was NOT impressed.
A quick run through left me with the impression that it was a store full of poor quality t-shirts with obnoxious slogans on them — obviously geared towards a younger set than me. The t-shirts weren't lewd or downright disgusting like Abercrombie & Fitch, but not really appropriate for someone in their 30's either.
Probably six months later, we ran into another Steve & Barry's at a different mall. By this time, I'd made the connection that the nice sweatshirt that my sister had left behind (and that I currently wore to shovel snow in the driveway) was from the same company. I bought a $7.98 t-shirt that day.
In two weeks time, I'd worn the t-shirt at least 3 times. It was a good quality t-shirt. I even wore it yesterday. And for $7.98? Wow.
For years I'd been paying $10.50 (current price of late is $14.50) for the plain old blank Gap t-shirts. No more. Steve & Barry's has supplied probably 80% of the t-shirts that I wear with any regularity.
Even on vacation, I plotted out the various Steve & Barry's in the midwest along our path before we departed, so as to get inexpensive souvenirs from each location. We only stopped at three of them, two in Wisconsin and a HUGE one in Indiana.
Probably added 10 more t-shirts at $7.50 each. (Using their neverending 2 for $15 promo.)
Some are even longsleeve! Yes, you can get a long sleeve t-shirt for $7.50. Even their sweatshirts are the same low price.
Bottom line, they're cheaper than Walmart, Target, and Old Navy. And unlike those other stores, they're stylish enough that you don't look like a townie or a billboard for the store in their clothes. While I can't stand her, even Sarah Jessica Parker has an exlcusive line of clothing with them and according to the tabloid television shows, she's apparently a very fashionable dresser. I don't see it.
But now, it appears, after having just found them, they'll be pulling out of our market. That sucks.
It's totally of their own doing — a classic example of getting too big far too fast, but one has to wonder why they can't just raise their super low price by just one dollar per item. Or make it a nice round $10.
They'd still be cheaper than everyone else (their quality is already better than the previously mentioned stores), and they'd drastically increase their revenue…
Based on the reports, I'd guess they're in a bit more trouble than a plan like that could solve…