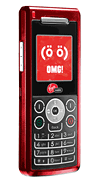 To those still struggling to activate their new Apple iPhone 3G's this morning with AT&T or Rogers, I just wanted to let you know that I just "topped-up" my own cell phone plan with Virgin Wireless for another three months of service for $21.20.
So for an entire year (and including the price of the phone), I've spent $116.59 on my cell phone.
Less than $10/month.
And I didn't have to stand in line all day to get my phone. I didn't even need someone "technical" to set it up for me.
And you know what? I can even make phone calls on it.
BTW, that's what phones are actually for… phone calls.