Low Utility Bills: Unexpected Vacation Benefit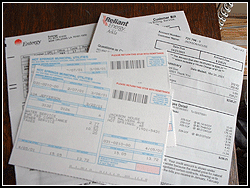 I like to think that I'd thought about this in the back of my mind before we even left, but I didn't think the difference would actually be that sizeable.
Last month, we shut the house down and went on vacation for 10 days. While our excursion wasn't exactly inexpensive, we had planned for it financially and it has already been paid for in full. We're right back to our regular month-to-month budget.
So it was a pleasant surprise yesterday when the bills came in. All four monthly utility bills arrived yesterday — electricity, natural gas, phone, and cable — and normally I hate when that happens…
With the exception of the cable bill (which actually went up 1 cent), they were all significantly lower. In fact, the electric bill was the lowest it has ever been since 2004 (when we first started using CFL's exclusively).
Weather-wise, the previous billing cycle was very similar to this most recent billing cycle. I mention the weather because it's very strongly associated with the gas and electric bills in our neck of the woods. In the winter, the gas bill alone flirts with the $400 mark.
Granted, summer bills are generally lower than winter bills but sometimes running the air conditioners regularly can inflate the electric bill substantially — sometimes over $200 — but not while you're on vacation.
Here's the run down, along with some historical numbers:

So, while June 2008's numbers may have been a little high for a typical summer month (I must have turned the heat on every now and then to get the gas bill that high), comparing my most recent bills to the same billing period last year shows that it still cost us $50 less to keep the house running in 2008.
The fact that the rate on all 4 bills has gone up since that time makes it even a little more impressive.
Bettering that, we've got $470/month budgeted towards these 4 bills. July cost us less than half of that.
But really, a $50 savings over an entire month isn't that much money, I know that, but it's been a long time since I last spent less than $250 on utilities in any given month…
It was in 2001 to be exact — before I even had a house…