Net Worth Update: August 2008 (+$3,328)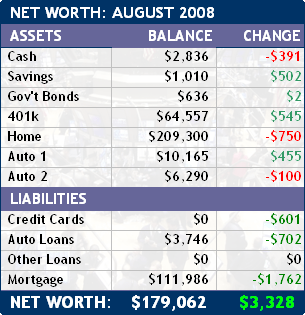 Back on track and headed in the right direction again after my first down month in roughly a year.
Here's how my finances break down at the start of this month:
Cash:
Not a lot of movement here. Mostly because I had my checking account riding high at the end of last month for use on vacation and this month was a 3 paycheck month — I "topped-up" yesterday. I'd expect it to hover back around the $2k mark for September's update.
Savings:
Slight recovery. In June, I "borrowed" $1500 from this account to pay for vacation. This month I returned just one third of that. Not great, but better than nothing.
Gov't Bonds:
No action here. I'd pull the money out since I find I-Bonds dreadfully boring, but they're earning a decent return right now so it wouldn't make sense to move then.
401k:
Still technically losing money here. Not as badly, but when you're contributing around $1k each month and seeing the balance only go up around $500, well, it doesn't feel like such a good idea. I say that, but I'm not anywhere near holding back my contributions. In fact, while I'm already at the point to qualify for the maximum employer match, I'm on the verge of taking it one step further to hit the federal $15k limit.
Home:
Still dropped in value, but not that much. In fact, during the month it was down a lot further only to recover about 2 weeks later. Perhaps it has something to do with my neighbor's house now on the market…
Auto 1:
My little Scion xA has retained its value pretty well — back up a nudge this month. It's nice to know that I was a good two years ahead of the curve when I picked up this little fuel efficient 4-door hatchback.
Auto 2:
It blows my mind that KBB thinks my BMW Z3 only has a trade-in value of $6290. Sure it's over a decade old and it's been in an accident but it's only got 37k miles on it and runs like a charm. I know I could throw a "For Sale" sign on it and get some sucker to pay 5-figures for it any day. I'd pay that much for another one! Even still, as it's paid for already, I've no problem letting it sit in the garage until it starts to appreciate. I've no doubt that it will sooner or later.
Credit Cards:
Right back to zero. It may look like I only paid off $601 this month, but once everything we spent on vacation cleared, the total bill was just shy of $2200. Wiped out. Too bad the rewards don't amount to a pile of beans…
Auto Loan:
Stepped up the pace on this one. Breaking the $4k mark puts me in the red zone. By October's update, this number will be zero.
Other Loans:
Zero. Been that way since May 2007.
Mortgage:
Tons of progress here, but no reward. I've never sent so much extra towards the principle before but this was a failed attempt at having the PMI removed from my mortgage. I'll go hard again this month (to the tune of around $2k) and hopefully that will push me over the edge and put that useless insurance behind me.