Dropping the Baton at the Olympics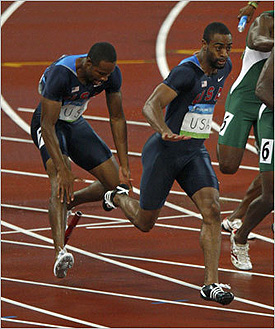 Earlier today I made reference to the fact that both the U.S. Men's and Women's 4×100 meter relay team dropped the baton in the Olympics this week, thereby eliminating themselves from the finals.
Last night I also noticed that in the men's semi-final that Great Britain, the favorite in the race, made their exchange outside the zone. Stupid. That can't happen. Especially at this level and in a preliminary race?!
It took NBC at least 5 minutes to make mention of that fact because they were so busy giving us super close up shots of the Americans who didn't even cross the finish line. I'm not even sure that they made mention of who won the heat. Poor Tyson Gay…
NBC's over-Americanized presentation aside, I couldn't help but laugh at every single heat. Nearly half the field in each race was disqualified for either dropping the baton or making the exchange outside the zone.
On top of that, when an exchange was made successfully, it was poorly executed EVERY SINGLE TIME!
I ran track in high school. I wasn't a sprinter, but being a middle distance runner, I did run the 4×400 and 4×800 relay on occasion.
Sure, being that those races aren't as short as the 4×100, the baton exchanges aren't quite as important, but you know what? We practiced them. A lot.
No, we weren't world class in the relay. But our handoffs, well, based on last night's performance by at least 8 different countries, were, in fact, world class. We would have qualified for the finals just because we would have finished the race. How sad is that?
I feel bad for the US. Individually, they don't have the best sprinters in the world, not even close (though NBC would have you think otherwise) but they do have the most depth.
While a guaranteed gold medal in the relay may have been a lofty expectation, the US relay teams were basically guaranteed a medal. Guaranteed.
But they didn't practice the team part. That much was obvious. Hey, the article even mentions that point — though I'm not sure it even had to. It was *that* obvious.
As a result, they didn't even make the final.
On a personal note, I thought it was disgusting that the NBC commentators essentially blamed Darvis Patton on the men's side seemingly because he isn't the household name Tyson Gay is. I'm sorry, but that missed exchange was 100% Tyson Gay's fault. 100 percent. The anchor dropped the ball.
For the women, it was rinse and repeat. NBC again laid blame on the wrong runner. Lauryn Williams, I'm looking at you.