Net Worth Update: September 2008 (+$4,473)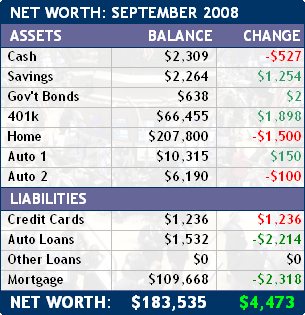 Another big gain this month but not everything was a success…
Really, an increase of over four grand should feel awesome — especially considering that my total non-mortgage debt is less than four thousand — but for some reason, I feel like I've been spinning my wheels all month long.
Probably that darn PMI thorn in my side… Ouch!
Anyway, here are how my finances break down this month:
Cash:
Down a bit as expected. Last month was high because of a paycheck arriving on the last day of the month. I do my best to have this hover around $2000.
Oddly enough, I've already written a $1300 check for the mortgage this morning so technically this balance is already down to $1000.
Savings:
In June, I "borrowed" $1500 from this account to pay for vacation. Now, a couple of months later, I've finally replenished my ING account. I expect this to continue to rise in the months ahead.
Gov't Bonds:
As is the norm, no action here. I'd pull the money out since I find I-Bonds dreadfully boring, but they're earning a decent return right now so it wouldn't make sense to move then.
401k:
For a bit this month it was way up. But then it came back down. Even still, a gain of $1898 is more than I contributed, so it was a good month. September should be even better as that's the month my employer contribution is deposited each year.
Home:
Another $1500 drop. Still no where near approaching what I paid for it. That would be $141000.  So, no, I'm not feeling the burn of a housing slump.
Auto 1:
Small fuel efficient cars continue to rise in value and I'm not complaining one bit. It was one of my better purchases. I thought that at the time — now, 3 years later, it's been confirmed.
Auto 2:
The value of the BMW continues to decline. Even still, as it's paid for already, I've no problem letting it sit in the garage until it starts to appreciate. I've no doubt that it will sooner or later.
Credit Cards:
This is the elephant in the room. I've been at the zero mark every single month since March, when I finally paid off the last of my credit card debt.
This past month, I wrote a $1500 zero percent interest check to myself in a failed attempt to have PMI cancelled on my mortgage.
No worry, though. I've got a weekly payment plan set-up to have it paid off in another 12 weeks without ever having to pay any finance charges.
Auto Loan:
Same idea here. I started the month with a couple of huge payments in an attempt to rid myself of this sometime in September. Then, I smartened up a bit and set-up a plan to pay it down at a more relaxing pace. This balance will be eliminated by December on the plan, though I have a feeling, I'll wipe it out well before that…
Other Loans:
Zero. Been that way since May 2007.
Mortgage:
DENIED! Like July, there was a ton of progress here but, again, no reward. I managed to knock $2318 off of principle in one month and the purpose was to have my PMI eliminated. Didn't work because Countrywide is apparently above the law — so I won't be doing this again.