Photo of the Week: What Can You Expect for $12?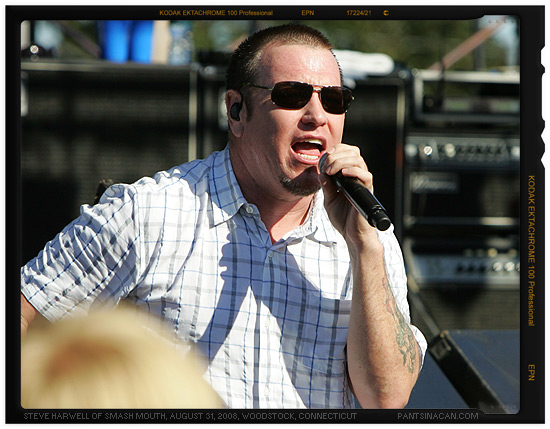 This is Steve Harwell, the lead singer for the band Smash Mouth.
We saw him yesterday at the 148th Woodstock Fair and I took this picture.
For the record, he can't sing. He was terrible. The rest of the band wasn't so great either.
I like this band. I thought I liked this band.
Actually, now having seen them live — I like them less.
The played all of their hits, which was good, and a ton of Van Halen for some reason, which wasn't so good.
Actually, the guitarist actually seemed to know what he was doing on the VH songs, but once they broke into "Walking on the Sun", well, I could have been playing guitar up there. Very strange. Had it not been for the bassist staying consistent with the bass line, the whole thing would have fallen apart.
They finished up the show, expectedly, with "All Star", but Steve's voice was totally worn out at that point.
He was flat for the entire show, beginning to end, and worn out for the last few songs.
Often Smash Mouth is criticized for being a campy 60's cover band and, now, having seen them up close, well, they almost sounded like a cover band of themselves.
The criticism is well deserved.
Thankfully, admission was only $12 each and we got to pet cows, sheep, chickens, and other things too…
We also saw a number of bearded ladies and even a few one thousand pound men too… Though they all probably paid twelve bucks to get in too…