Photo of the Week: Mite Hockey
With the weather being not so nice this weekend, we decided to take a week off from attending an agricultural fair.
I dunno, there's just something about the combination of livestock and rain that I don't find terribly appealing…
But of any week, this was the one to skip — the best entertainment around was Peter Noone and I've seen him at least three times in the past…
He's alright, but once you've seen him once, well, let's just say it's as if he's been doing the same show for the past two decades…
Instead, on an unseasonably balmy day, I went to our local arena to take in my first hockey game of the season.
The temperature (and humidity) difference once I entered the building was enough to fog up my glasses. I love when that happens.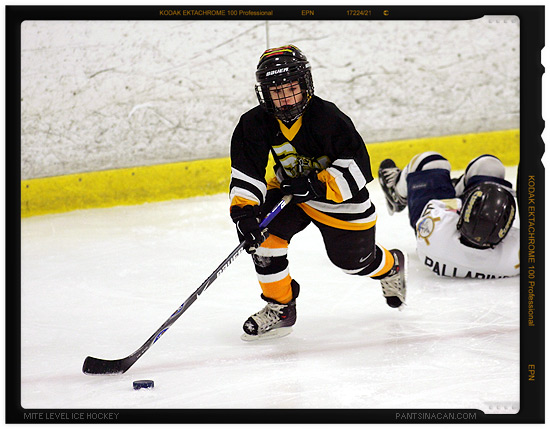 Sure, the players aren't not pro. They're probably not even 4-feet tall (in skates), but they try their hardest and put on a pretty good show.
The hits these kids throw, well, let's just say it's as good as anything you'll see in the NHL. Okay, maybe they're not that great… but there's nothing quite like the sound of two face cages colliding at full speed. That's something you don't hear at the pro level.
Best of all, it's free.
The funny part about last night was that the league that the players play in tried to hire me — on the spot?!
"Hey, who do you shoot for?"
"Freelance — I usually shoot pro…"
"Cool, do you hire out?"
"Nah, sorry, I'm not really looking for work right now…"
That's too bad, we've got a showcase coming up in a few weeks and we're looking for an action photographer…
Weird how when you're not interested in making extra money, it practically falls at your feet, but when you're wondering how you'll make the next mortgage payment, any extra income is impossible to find…