Any Interest in a 3.5% 30-Year Fixed Mortgage?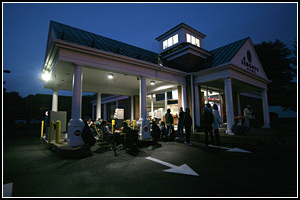 Yeah, me too… And it's for real — not just some teaser rate. Zero points paid.
No joke. This is not a scam.
Is that even possible in this financial climate?
The answer is, "Yes!"
Of course, there are a few strings attached — like having to sleep overnight outside the bank alongside the drive-up ATM.
But before you get too excited, I should probably also mention that we all missed our shot at it — the rate was only available last weekend.
Here's the article by Kenneth Gosselin from the September 14 Hartford Courant:
Home Buyers Camp Out For Shot At 3.5% Loan

Maybe you thought you'd heard it all when it comes to people camping out overnight to get a shot at being the first to own perhaps the hot toy or the latest computer game.

But how about a home mortgage?

Twenty-five home buyers with signed purchase agreements — some of them having waited as long as 24 hours — were in line early Saturday outside the new Liberty Bank branch in Wethersfield for a chance at applying for a 30-year, fixed-rate mortgage at an incredibly low rate of 3.5 percent.

"It's like winning the lottery," said Mike Lemos, who was fifth in line Saturday at the Silas Deane Highway branch.

Lemos and his wife, Julie, a real estate agent, were among the 13 who were lucky enough to get a shot at a slice of the $3.5 million program. The remaining dozen were put on a waiting list in case others before them in line don't get final approval.

The Lemoses hope that the low rate will allow them to afford payments on a $360,000 ranch that's nearly double the size of their current 1,800-square-foot colonial — and save $100,000 over the term of the mortgage.

"We wouldn't have had a thought of doing this without this rate," said Lemos, a securities compliance director at MetLife.

The promotion — intended to call attention to the opening of Liberty's first branch in Wethersfield — allowed purchases of one- to four-family homes in Wethersfield. Borrowers had to come armed with a signed purchase contract. No points were charged, but closing costs and other fees still applied.

At a time when most lenders are scrutinizing credit and income histories amid the downturn in the housing market and fallout from the subprime lending crisis, the promotion gave borrowers a low rate to help counterbalance lending industry insistence on higher down payments after years of loose underwriting.

A little math reveals the savings for borrowers. On a single-family house in Wethersfield purchased at July's median sale price of $252,000 with a 20 percent down payment, a borrower would finance $201,600. The monthly principal and interest payment at 5.93 percent — the national average last week for 30-year, fixed-rate home loans — would be $1,200. At 3.5 percent, the payment drops to $905 — a difference of $294 a month, or $105,973 over 30 years.

If the borrowers — many of them pre-qualified, based on credit scores and income — receive final loan approval, they also have to open a checking account with direct payroll deposit and automatic debit for the monthly mortgage payment.

The prospect of sizable savings grabbed the attention of Nancy and Douglas Robertson of New Britain, who were 11th in line. The couple had been house-hunting in the Hartford area, but quickly settled on Wethersfield when they heard about the promotion from their real estate agent two weeks ago. They signed a contract on a $365,000 four-bedroom, 2 1/2 bath split-level near the Rocky Hill line on Labor Day. The Robertsons estimate that they will save between $500 and $600 a month on their monthly payments with the low rate.

Nancy Robertson, a lawyer, said she enjoyed the camaraderie in line, although she could have done without such a long wait.

"But it's a small price to pay for a once-in-a-lifetime rate on a mortgage," she said.

Even when 30-year rates were at their lowest, on average, nationally, in June 2003 — at 5.23 percent with 0.6 point — it was well above what Liberty was offering in the program.

The bank took the opportunity to woo those waiting in line. It handed out umbrellas during a downpour Friday night, and later served pizza. Unlike similar campouts at retailers, Liberty brought in a portable toilet, complete with flashlight.

Banks typically trot out promotions when they open new branches in a market as they dig in to build market share. But the promotions are usually aimed at savings, such as high-rate certificates of deposit. But Liberty wanted to do something with loans. The bank chose $3.5 million and 3.5 percent because the branch is Liberty's 35th.

Robert A. Steele, the bank's director of consumer credit risk, said the bank expects to "break even" on the loans. But the greater benefit is exposure to the community — and showing the market that the bank has money to lend, even in a tighter market for credit.

Anthony Centurelli, who secured the first place in line, wants out of his condo and saw the rate as the way.

He has a hard time parking his pickup truck in his complex. The $280,000 house he and his wife hope to buy on Folly Brook Road has two garages.

"This came up, and we said, 'What the heck?'" said Centurelli, a civil engineer.
Well, one thing is for sure — a few lucky families in Wethersfield, Connecticut probably won't be refinancing over the next 30 years…