Net Worth Update: October 2008 (-$4653)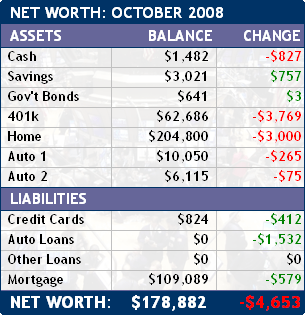 Well, I'm not sure to many of us out there keeping track of this sort of thing will be able to say we had an "up" month…
But that's okay. I mean, sure, my assets dropped a ton but so did my liabilities. I even wiped the slate clean for one category. Of that, I've very excited.
So until I near the point where my assets are less than my liabilities, which I don't see happening to me specifically, I'm not going to get all down and depressed by news of a looming recession.
Cash:
I do my best to keep my checking account balance, after all of the bills have been paid, between $1k and $2k. Right now, I'm right in the middle of that.
Savings:
I'm really close to embarking on a new savings strategy that will really get this going up in a hurry. Didn't quite get there this month, but the current balance is the highest that it's been all year.
Gov't Bonds:
Booooooooring… But the rate they're paying right now, I almost wish I hadn't cashed out so much last year…
401k:
Ker-thud! It's not that bad — Tuesday's recovery definitely softened the blow but, like every one else, I took a bit of a beating here. I can't personally control the markets, so I'm just going to go with the flow…
Home:
Another category with a big drop. Again, totally out of my control, so I'm not going to let it bother me.
Auto 1:
This is the car that I paid off this month. Now it's time to drive it into the ground…
Auto 2:
This is the BMW that I crashed. Someday, it's value will stop declining. It's pretty.
Credit Cards:
Just the lingering $824 balance at 0% that I'm paying down in weekly increments of $103. It's not costing me anything, but it's certainly annoying me to not see a zero here…
Auto Loan:
Buh-bye. Gone. Done. One thing that has been a constant in my life since March of 1997 is a car payment. Always one — sometimes two. October 2008, the streak ends.
Other Loans:
No action since, well, I've all but forgotten… It's been ages since I carried a balance here…
Mortgage:
Just settling into a comfy pace at this point. The more I read about the specifics of the HOPA, the more faith I lose in my chances of having my PMI terminated. Pretty much everything out there that you read about PMI dropping automatically is bunk.
So my best bet, since my relationship with Countrywide has soured, is to just re-finance somewhere else. Either that, or I could just cave in to their demand of $130 for an internal appraisal. Yeah, not really considering that option though it may be the wisest move financially…
In the meantime, since I'm perfectly happy with my mortgage payment and reduction pace, I'm just going to wait until I happen across an offer that I can't refuse.
Oh, and I'll just pretend I can't see the $85.15 that Countrywide steals from me each month…