Economy Hitting Main Street? I Don't Think So. And Here's Why…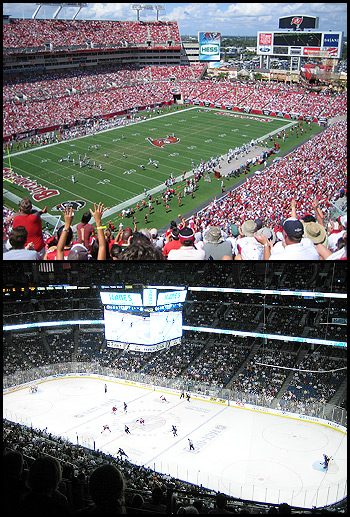 While we were down in Florida last weekend, as I mentioned yesterday, we visited Disney's Animal Kingdom.
I lamented about how much of a rip-off admission was — $75 per person plus tax. I didn't even bother to mention the cost of food, but it wasn't cheap either.
Though there were only two of us, the day cost over $200 total. We didn't come home with any sort of souvenir either. Not even a novelty cup. That's an expensive day — I don't care how much money you make.
Now, I say that the economy isn't affecting Main Street one bit because we weren't alone at the park. Tens of thousands of people were there with us — at $75 each.
Hardly a crowd of elites either — fact is, regular people out there are still willing and able to drop a few hundred dollars to go to a terrible zoo, slow economy or not.
But it wasn't only our trip to Disney.
We also attended an NHL and NFL game in Tampa Bay.
Tickets to those events are NOT cheap.
Neither are the concessions.
Or the souvenirs.
Or the parking.
But you know what? Both the St. Pete Times Forum and Raymond James Stadium were filled to capacity. FILLED. A majority of fans were double-fisting a pair of $6.25 beverages too.
Tickets for those two events were also around $75 each — for the cheap seats where we sat. See the photos? That was my vantage point.
So, again, there were tens of thousands of regular Joe's (not excluding Joe the Plumber or Joe Six-Pack) that were able to drop well over $100 per person purely for entertainment purposes.
Just across town, the Tampa Bay Rays were playing the Boston Red Sox at Tropicana Field.
You guessed it, also sold out.
And I'm pretty certain that those ticket prices were considerably higher than $75/seat.
Just something to think about the next time you hear a politician attempting to connect Wall Street to Main Street.
From my recent experiences, an awful lot of disposable income is still out there… The masses aren't suffering.