First Imaginary Car Payment Made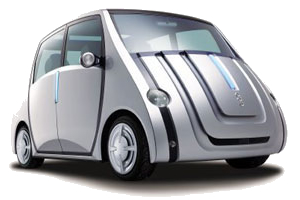 It was actually late last week that I made my first "fake" car payment, but now I've set things up so that on the 15th of each month, I'll be auto-depositing $400 into my new ING account labeled "Auto".
So far, I've earned 3 cents interest.
Wow!
Exciting stuff!
I'm on my way…
But multiplying a $400 payment by 12 only adds up to $4800/year.
It's funny how a monthly payment of $400 feels like a lot to come up with, but $4800 over the span of a year doesn't feel like very much at all.
They're exactly the same, but they certainly don't seem that way. To me.
And considering that a typical 4-door car considered inexpensive still costs between $15-$20k, it would take me 3-4 years to finance a future car purchase myself.
I can imagine my current car lasting another 3-4 years, but I'm not going to count on it either. You never know when it's going to decide to stop running…
And that has me thinking… Should I increase the fake car payment?
Or, maybe, since it will take my 3-4 years to save up for my next car, what's the difference in just financing much of it like I have in the past?
Either way, both scenarios come attached with 3-4 years worth of monthly payments…
Hmm…