Hesitation Prevails — I Saved Over 50%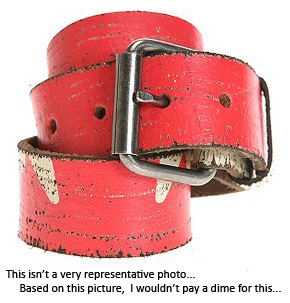 Seems like I just keep going back to talking about our trip to Florida over the weekend.
Well, here I go again…
While down there, we visited a couple of shopping malls. One of the stores my wife and I ventured into was Urban Outfitters.
I used to get their catalog around five or six years ago (when I was still their target audience), and I'm pretty certain that I've been in their Toronto store a time or two, but I've never actually bought anything.
It's a little too "cheap" (but expensive) and trendy for me.
But while in the store, I came across a belt that I kinda liked. It's got the Canadian flag on it.
Not really my style — I'm not "metro" enough to ever wear a white belt, let alone a red one… But I still liked it.
Even went back to look at it twice — a rare occurrence. Must've been the flag.
But the price was too high.
$38 for a belt?
Not in my wardrobe.
Needless to say, we left the store empty handed.
Now, I usually buy a belt once every decade and usually it's from a discount store like T.J. Maxx or Marshall's. The belt of my 20's was brown. The belt of my 30's is black. Together, I'm pretty much covered for any and every outfit.
List price on each of them was probably $59 or so, but chances are, I only paid maybe $12.99.
Thirty-eight dollars, on the other hand, is too much to spend on a belt. Way too much. Especially one that I might be embarrassed to actually wear.
But this morning, while getting dressed for work and looking for my usual belt (still attached to yesterday's pants), the Canada belt crossed my mind again.
Still pant-less (too much info, I know), I hopped on the computer and did a search.
No luck. Lots of honky looking belt buckles with maple leafs, but not the belt that I was looking for. Even eBay let me down… How often can you say that?
Then I went right to the source, UrbanOutfitters.com, and there it was.
On sale…
Sold.
But I do have to moan about the additional $6 shipping charge… Sheesh…
Oh, and who on earth pays $36 for a threadbare t-shirt?
I mean, really…
How does this place stay in business?