Closing the Book on the PMI Fight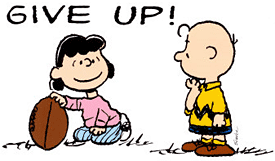 So, after all of this time of avoiding the subject entirely, I suppose it's time to wrap up this whole PMI topic.
In last month's net worth update, I briefly hinted at the fact that I was throwing in the towel for now…
I cast out one last line earlier this month to Countrywide when they completed my annual escrow analysis for my attached escrow account (which, in part, pays the PMI premium each month) and was greeted with the same response I've been receiving since July.
"Send us a check for $130, take a day off from work, and maybe we'll drop it, but probably not. The current market conditions aren't favorable, you know…"
So, for the time being, and likely the entire year of 2009, I'm just going to swallow my pride and continue to be ripped off because I've come to the conclusion that this is a battle I can't win — there are just too many loopholes and specific conditions available in the law for them to fall back on to justify taking this money from me.
Yep, I've met all of the commonly mentioned benchmarks; the 22% equity being the most often referenced as a mark resulting in automatic termination.
But there are little sneaky things in there like termination, automatic or not, never happening until reaching the mid-point of the original amortization schedule.
Yeah — like 9 years from now…
In my instance, that's another $9200 in PMI payments.
And, even then, there are ways for Countrywide to continue to hit me up for an extra monthly fee.
Aggravating is the only word I can think of to describe it.
Seems my only hope is to re-finance and, right now, I'm not ready to make a move like that.
I'm not really sure why I say that, it could just be laziness — it probably is, but for whatever reason, I'm just not comfortable making that move right now…
You know, with "market conditions" being what they are…         ;0)