Dear Dr. Pepper – You call that a Promotion?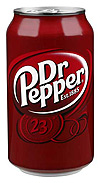 Ugh, the Dr. Pepper offer gets even more lame than I'd originally thought!
So, their site has the link up for your FREE Dr. Pepper now, kudos to them, but there's some fine print that I think needs a little more highlighting:
Allow 4-6 weeks for coupon to arrive. Coupons will expire on Feb. 28, 2009.
So, not only is it weak that they're only offering the coupon for 24 hours (on a Sunday too), but now you need to wait until mid-January to get your coupon in the mail and then you don't have much time to use it…
And don't forget that they just collected all of your mailing address info too. Yep — you just signed yourself up for countless mailing lists. Congrats. Enjoy the junk mail.
The next time they feel the need to run a silly promo to garner some publicity, I think they should steal a page from the Taco Bell folks who provided nearly instant gratification; no questions asked — if you like mystery meat-paste tacos…
Or maybe not, the publicity part has already worked for Dr. Pepper and my guess is that they don't want to get into the business of handing the product away for free anyway…
And really, does anyone really like Dr. Pepper? I mean, I'll drink it over any Pepsi product, but I can't say it's ever been my first choice either…