Wow… What Happened Today?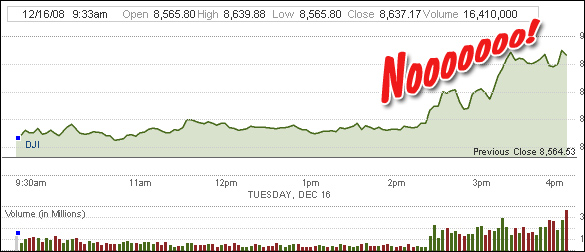 As welcome as a 4-5% jump in the markets is, I know deep down that it will fall back as the week goes on. Maybe, just maybe, it's the pessimist in me.
And soon, no doubt, my latest plan (of saving aggressively rather than spending) will backfire.
Perhaps "backfire" is the wrong word.
Saving is always a good thing — but to think, while I was too busy paying down debt to even consider saving, online banks like ING and Emigrant were offering interest rates in excess of five percent.
Now, or in the next few days probably, the rate I'll be earning with ING will more than likely be under two percent… Shucks…
I missed the bust not by a few minutes but by about a year. That's how it feels.
But hey, at least I erased the debt in the nick of time…
Things could definitely be worse.