Net Worth Update: January 2009 (+$6,469)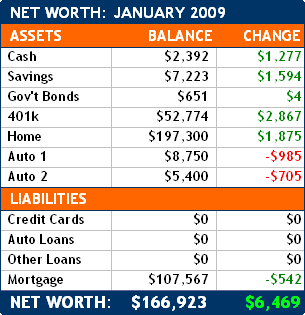 Finally a positive month!
December of 2008 essentially canceled out my dismal November, which is good, but I've still got a long way to go to make up for my 5-figure loss in the month of October…
No matter, you have to get going somewhere and it looks like December was my first month on the road to recovery.
Here's the breakdown:
Cash:
Getting that third paycheck at the end of the month (due to New Year's Day falling on my normal pay day) padded this number some and also allowed me to pay off some credit card debt at the last minute.
Savings:
This is the result of my mildly successful aggressive savings plan. While yesterday's news (ING lowered their rate) is a little upsetting, if I can keep this kind of pace up until the smurfling is born, well, I'll be in great shape — you know, to start a renovation plan for, ahem, that room…
Gov't Bonds:
Considering that I've only got $600 tied up in these things, a gain of four bucks is pretty neat-o!
401k:
No complaints here. All the reports you hear are about how the stock market lost over 40% of it's value in 2008, but my investments rose nearly 6% in the last month. Overall, for the entire year, I lost around 34%, but the fact that it went up a reasonable amount in December is reaffirming that it's the right place to have such a large amount of my assets
Home:
Can you say recovery? Ha! A little too early for that, but hey, after three months of decline, again, I'm not complaining.
Auto 1 & Auto 2:
Hmmmm… The both took a pretty large hit this month. Not sure what's up with that, but I won't let it bother me because I don't owe a dime on either of them.
Credit Cards:
Zilch. Zero. Nada. Remember that Black Friday Derailment I had at the end of November? Well, it didn't hit my credit card until December, but yesterday's paycheck paid every last cent of it off.
Auto Loans:
Have I mentioned that I paid these off? 2008 was a great year for me financially.
Other Loans:
Nothing to report.
Mortgage:
More movement that last month but still not very much to get excited about. Evidently I have made the transition from debt repayment to savings, which I thought was impossible back in July, but I really hope I can find the funds to knock around $1000 off the mortgage principle each month *and* still be able to keep up my savings routine.