House Number Procrastination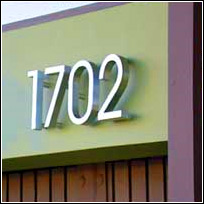 Back even before we had the house sided, I was contemplating having custom house numbers fabricated.
The diminutive selection offered at Home Depot or Lowe's just wasn't cutting it and I wanted something that looked nice. Unique. Classy.
At the time, I blamed my hesitation on wanting to wait and see what the house looked like once the siding was up before making a final decision.
That was nearly 2 years ago now.
Hesitation has become procrastination.
Our house still doesn't have a number on it.
I'm pretty sure that we're breaking some sort of local law there but because the mail has continued to be delivered, well, I haven't felt any sense of urgency to get the issue resolved.
Until now — though I'm sure this feeling will soon pass…