OT: Did you hear about Jessica Simpson?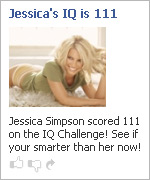 No, no, not about her growing waistline.
This isn't even about her attempt at making mom-jeans fashionable… though I do wish her the best in that effort.
See that little graphic over there? The little one, not the big one up top…
Yeah, it popped up on the right-hand side of my Facebook profile this afternoon. I'm not sure exactly why, I mean, I don't list her as a favorite of mine or anything.
In fact, I'm not sure I could name a single Jessica Simpson song.
I know "who" she is but I'm not really sure "why" she's as popular as she is, um, as she was…
But that's not what this is all about…
Can you believe that her IQ is apparently 111?
Okay, that's not what this is really about either…
Take another look at that little advertisement. It's apparently for an application that I'm sure can be added to your Facebook page. Though I didn't actually click on it, I think that much is clear.
Now, take a closer look…
See it?
Obviously, to me anyway, the person who created the advertisement has an IQ significantly lower than Jessica's.
It's not a total loss, I mean, they evidently knew the difference between "then" and "than", but c'mon, if "you're" creating an ad for an application that compares IQ scores, you'd better make darn sure that "your" copy is correct.
(For those that are confused but this entire post, the copy should have read, "Jessica Simpson scored 111 on the IQ Challenge! See if you're smarter than her now!")
Sorry, seeing errors like that in prominent places drives me bonkers…
Really, someone was paid to put together that graphic. Talk about shoddy work…