Have You Reached Your Savings Threshold?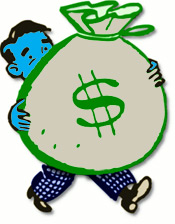 Okay, enough with all of the negativity, you know, like getting screwed on my taxes, insurance companies attempting to stiff their customers, and ING lowering their rate…
In short, I've added another automatic savings transfer to my very successful "weekly" schedule.
Every Wednesday, I'll be transferring $15 from my checking account to my ING savings account currently earning a dismal 2.178 percent.
Fifteen bucks doesn't sound like much. It's not.
It works out to $780 per year or $65 per month. Those numbers are a little more respectable, I guess, but they're still not real impressive totals.
They're not meant to be.
I don't even miss those $15. Not for a second.
I mean, if I weren't so diligent about keeping track of my checking balance, I'm not sure I'd even notice it missing — that's how small an amount it is.
But…that small amount increases, slightly, what I've already been dropping into savings each week — and that's the point.
Now that I've now settled into my current income and expenses, I've found that an additional fifteen bucks each week can definitely be spared without any impact on my day-to-day routine.
Basically, I'm slowly working my way up to my maximum savings threshold, you know, the point where I can no longer afford to "save" any more.
I'm not there yet, but I'm getting closer.