Single-Ply Insurance Under the Sink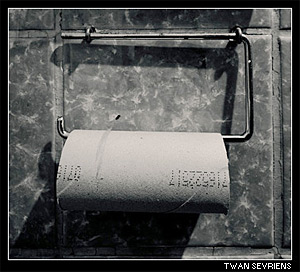 So my wife and I went to a different grocery store than normal today and, because it was new, I explored each and every aisle — aisles that I don't usually venture down.
One was the toilet paper aisle and I saw something that I couldn't believe — they still sell individual rolls of toilet paper!
Okay, that might not sound so strange but who on earth buys toilet paper one roll at a time?
I don't know about you but one of my recurring nightmares is running out of toilet paper when, you know, I really need it.
I'm sure I'm not alone in this fear.
But here's the thing — when we buy toilet paper, we but it in those HUGE packages with, like, 36 rolls.
Even in university, when I was super low on cash, at the very least, I'd purchase a package with four rolls.
This way, even if I happened to run out of toilet paper at the worst possible time, I always knew that there was another roll available under the sink or in the other bathroom or whatever.
Basically, I've always got back-up. Always.
Single-ply insurance, if you will.
But for those people purchasing individual rolls, well, that's like playing with fire…