March Madness… And I Still Haven't Seen One Second of Basketball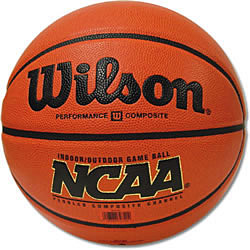 Today was one of those weird semi-holidays at work. I'd estimate that 50% of the male employees took the day off — and then another 25% left at noon…
I'd bet that tomorrow is much the same.
It happens every year around this time.
To blame? NCAA basketball.
Everyone, it seems, is all interested in the first round of March Madness and then, by next week, all but the most diehard sports fans have had about enough of college basketball.
I fall into that latter category. I could care less — I worked a full day today and I have full intentions of doing the same tomorrow.
But that doesn't mean I didn't fill out a bracket and kiss $5 goodbye this morning.
I don't expect to win. I never do — especially when I'm betting on something I know very little about.
My final four has Louisville, Purdue, Duke, and North Carolina with North Carolina defeating Louisville in the final.
Now you might be wondering, hey, isn't Brainy blogging from Connecticut? How come he didn't choose the UConn Huskies, you know, the top seed in the West, to make an appearance in the Final Four?
Well, I didn't pick the hometown UConn Huskies to go very far at all…
(In fact, I had them losing to BYU in the second round — an impossibility now that Texas A&M has already defeated BYU… D'oh!)
My reasoning is *mostly* personal.
It's because I think their coach, Jim Calhoun, is an arrogant arsehole but also because it's become apparent over the years that most of players on the team are nothing more than common criminals with little desire to actually graduate from the school I'm paying for them to attend for free.
Yeah — not a fan of UConn Men's basketball, their rap sheet, or their 33% graduation rate.
They're losers.
They don't deserve to win.
– – – – – – –
Canadian Fun Fact: Like ice hockey, basketball was created by Canadian James Naismith. Unlike ice hockey, Canadians by-and-large have very little interest in the game.